Lots Going On!
May 13, 2021
Hello Gorgeous!
How's your week going?  Really well, I hope!
I'm at that place, where I'm sure I'd get 'rear-ended' if I happened to come to an abrupt stop.  Know the feeling? Uh-huh! Thought so!
Tregae and I welcomed our latest Shop Sister to the gang today.  Patti has graciously agreed to tackle our behind-the-scenes inventory challenges.  I told Patti that if it was fun or easy, that we would have done it by now.  So, here we are…nearly 9 years in…and we're finally there!  Welcome, Patti!
______
I found a mirror on FB Marketplace, this week.  The beveled mirror is in perfect shape.  The frame has so much detail, I had to go over it four times, to remove all of the dust and dirt.  It was worth it!
I applied the first coat of a Fusion Mineral Paint to her today.  I started with "Little Lamb" and then added Lamp White, to the "interior" of the frame.  We'll see how it looks tomorrow, when all is said and done.  What a great improvement, so far!
___________
On my way home this evening, I picked up this vintage French style table.  It includes 2 leaves, that pull out, from each end of table.  Mr. Wonderful is going to give it his Official 16-Point Check Up, before I look at the current finish.
________
We went up to Tahoe, Sunday afternoon, for a quick visit.  I was sad to see that the new home, being built next door, seems to keep growing.  I told Bob that it makes our place look like a Tough Shed! Oh well!
It is what it is.  Now that our deck is in, we're due for some shrubs and a few trees to soften the view.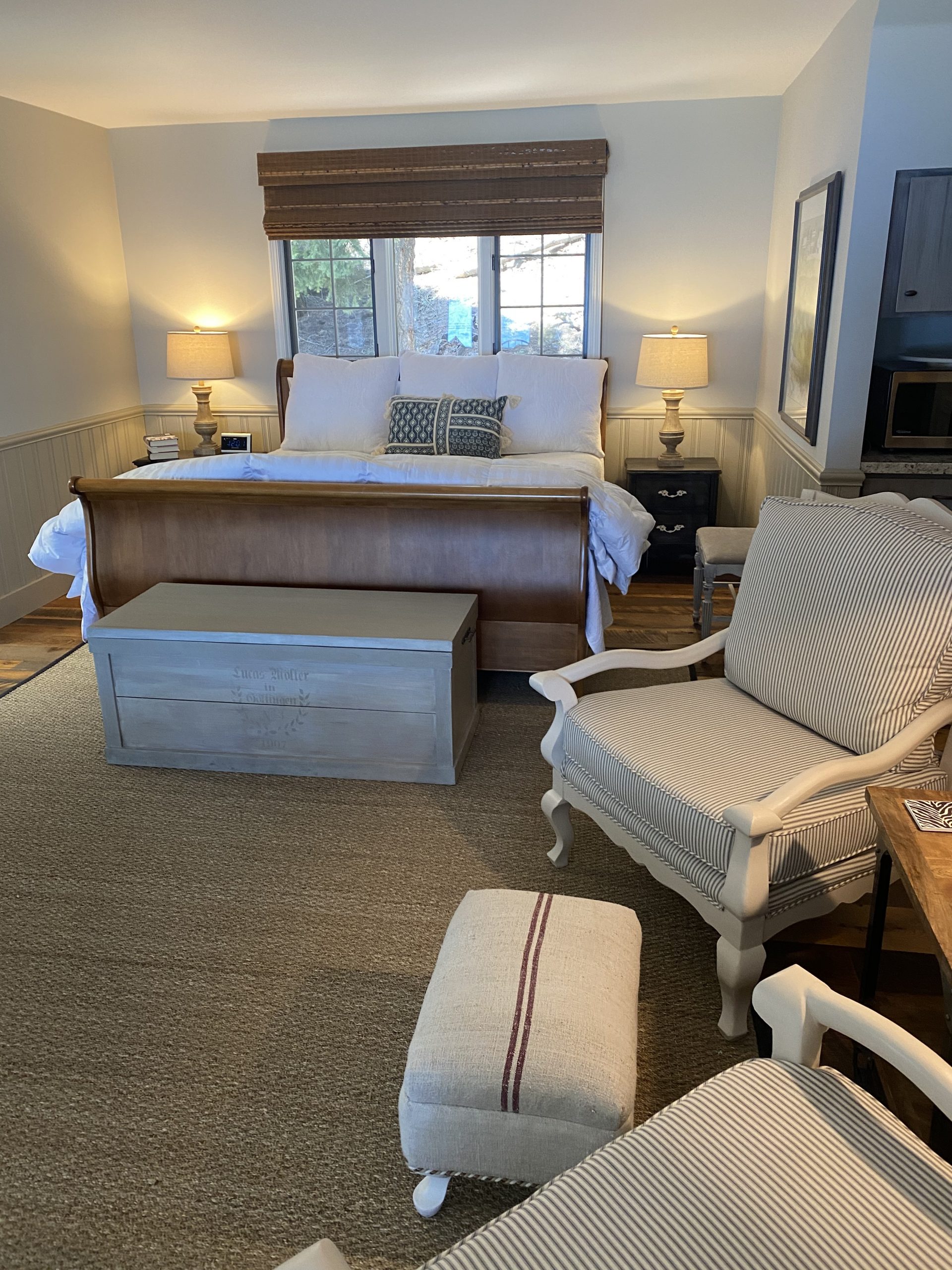 I spent Monday gathering dirt.  There was plenty to be found inside…and then I celebrated, by updating our master bedroom's bedding with a coverlet and pillows, from Marshall's.  A fresh white pallet looks really nice.  I need to just remember to tell Micah to wipe his feet!  (He went to the beauty shop today, so he looks like a new man, with his summer cut!)
Most of our kids will be out, in June for 5 days and I can't wait!  ___________
We've got lots of new goodies on their way to the shop!  More Myra Bags and Democracy Jeans and new kimonos, to name a few!  We love it when the UPS or FedEx truck pulls up!  So fun to see the new things arrive!
______
Yesterday, we had a fun private class and Saturday, is our Spring Banner Class!  (Full)
There's still room in our Weekend Workshop, with Lynne, from a wonderful shop, she and her husband have, called Ellen J. Goods, in New York!  She's a spokesperson and creative "rock star", for Iron Orchid Designs, and she'll be teaching three different projects, on July 24th and 25th, with her daughter Meghan.  Learn more Here!
She's a doll and you'll love her!
Well darling, that's all for now.  Thanks for your wonderful support.  Near or far, I'm feeling your good vibrations!  As always, keep the faith!
New arrivals, classes, and creative inspiration
is headed your way!
Signup for our weekly newsletter
Follow Us For More Inspiration