See What's New at the Shop this Week!
May 19, 2021
Hello, Sweetness!
I hope life is being very good to you this week!  The weather is certainly delightful! Best time of the year! Except for maybe Fall and Christmas and…
We had an unboxing party, today at the shop!  Tregae, our fearless leader, Darlene, Leticia and I puttered around the shop, most of the day, unpacking, steaming, pricing and arranging.  I can't speak for them, but for me, it is such a sweet group of women, that it doesn't seem like work, most days.  That's a nice zone to be in.  Thank you, God!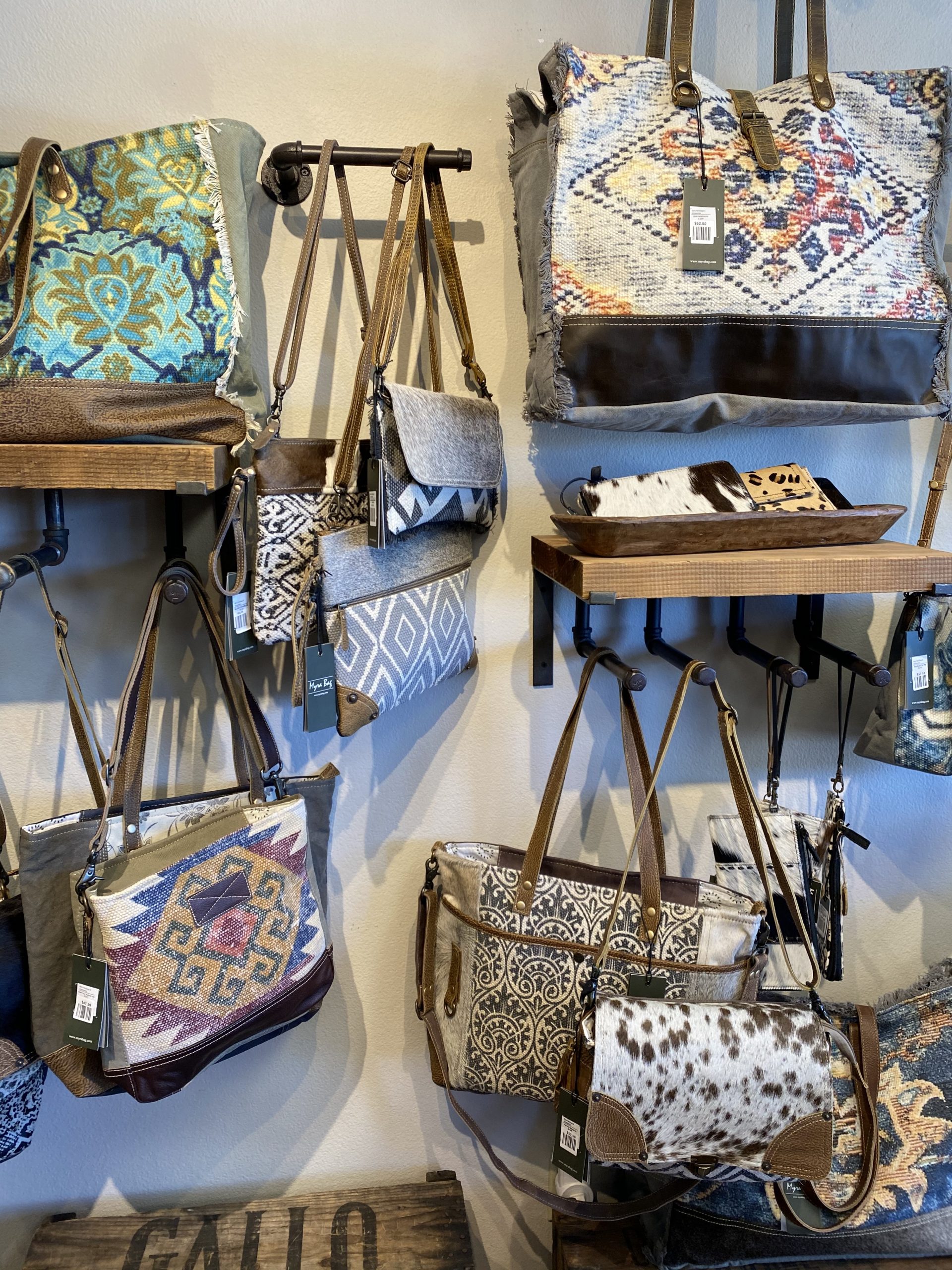 Well, after our first week's amazing sales of the Myra Bag line, I ordered a bit extra this time, along with some of their fun and functional wallets!
I'm on a roll, painting old mirror frames. (A roll is when I do more than one, in a short period of time!)  It's so fun to see what can be done, to update frames!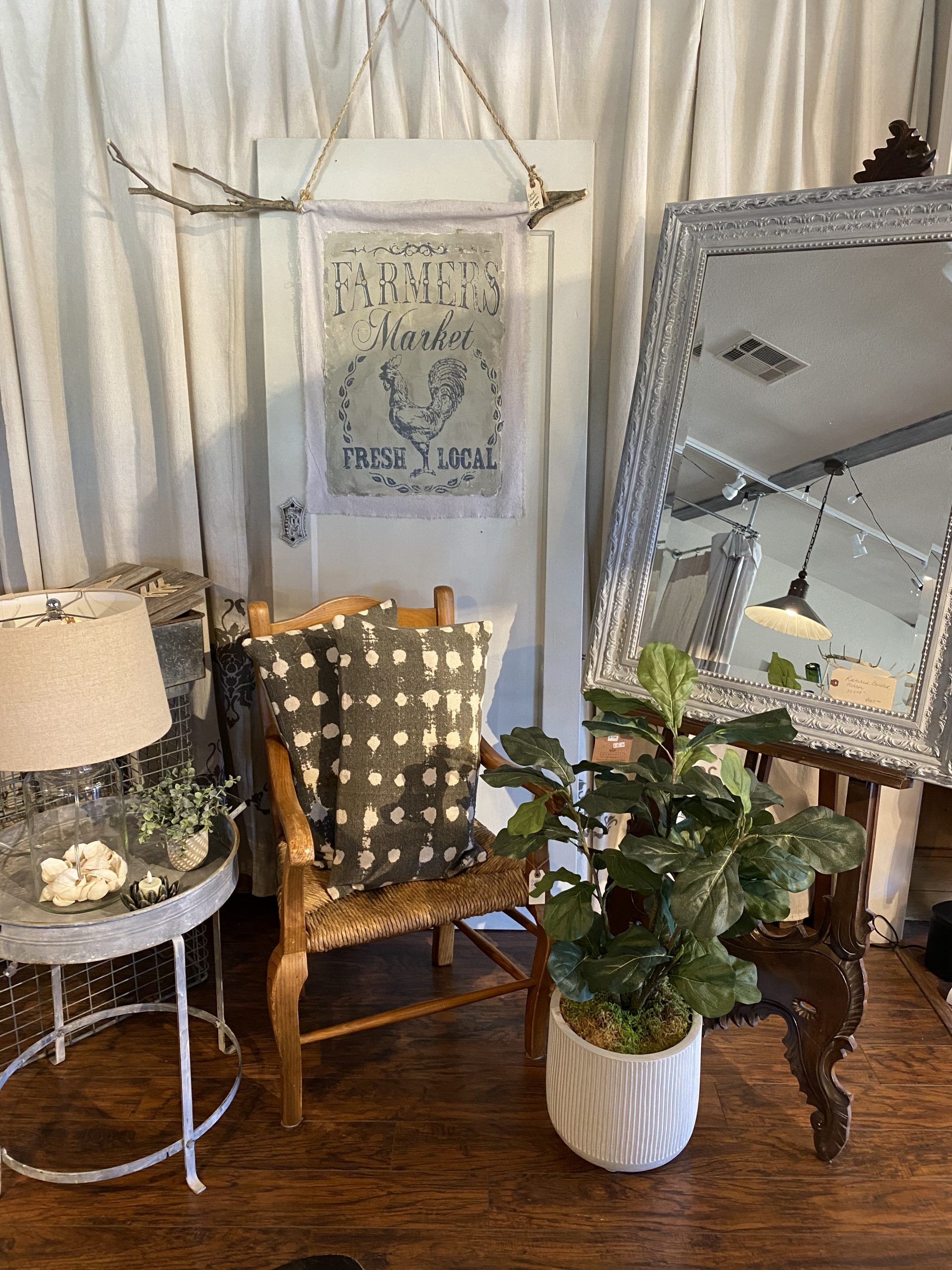 As I mentioned in today's Live Facebook video, there's a big trend, since Covid, to be fluffing our nests.  Making our living areas pretty and comfy, with good smells and beautiful lighting…indoors and out.
I'm crazy about the LED products on the market today.  Many of them are rechargeable and some are battery operated or electric.  Timers are my best friend!  It's so lovely when every day at 5 p.m., the candles and LED lit arrangements, light up to make a fireplace mantel or entry table come alive.
There's no need to wait for company!  These candles and tea lights are meant to burn for years!  If you need help creating your own arrangement, I can help.  Let's just set a time, so I'm not sloshing around a Good Will somewhere, looking for SilverPlate trays, for our next class!
Since we have about eight different kimono styles in the shop right now, I think it's safe to say I'm addicted.  Check out this linen kimono that says sherbert ice cream and summer!
We have just one more of this kimono with a black background.  It goes beautifully with the long jersey dress!
I get such a kick, updating the entry table each week, for you to see, when you walk through the shop door!
These hanging cages are great for candles or LED rechargeable versions, that we stock.  Think about layers, about surprising anyone who walks into a space. Indoors or out!
These sunflowers, in the blue and white vase, make my heart sing!
There are always new bobbles arriving.  Stackable elastic bracelets are fun to wear and so easy to throw on!
Let's talk workshops! 
I'd love for you to sign up for this class, Friday night at 6 p.m.  Susanne Kish has taught dozens of classes for us, over the years and this is one I thought you'd love, using acrylic paints on a pre-sketched board.  I'm counting on you to fill this class!  There are still three or four spots available and you'll leave with a piece that you'd actually hang in your home!  Just go to: http://Thetreasuredhome.com/classes   to sign up!  You'll be glad you did!  Seriously!
There's also still room for our Weekend Workshop, with Lynne Brundage, in July!  Three projects, completed over a Saturday and Sunday.  If you don't know Lynne, you need to meet her!  She's my vintage, but moves twice as fast and has twice the creative juices flowing through her brain.  Just go to our workshop page, for more info!
Let's see.  As I wrap this up, I'm thinking about my oldest sister Carolyn and her sweetheart of a husband, of 51 years!  Ned and Carolyn met when I was 15. Needless to say, I've known and loved Ned most of my life.  Now, he's into his 3rd year of dementia and he and my sister are doing their best to get through this challenge.  The test of a lifetime!  Please send your angel a request to guide them as they do their best, in a difficult time.
Well, princess, that's all I've got this week.  Keep the faith and say your prayers.  By now, I think we all have our Masters degree in hand washing!
XOXO
New arrivals, classes, and creative inspiration
is headed your way!
Signup for our weekly newsletter
Follow Us For More Inspiration