Iron Orchid Designs' newest release goes on sale today!
June 23, 2021
Hello Again!,
Welcome to the land of Iron Orchid Designs! You probably know that we've been full-line IOD stockists, since the beginning. The designers, creators and founders of the company, are Sally and Josie…two delightful sisters, who are practically local to our community!  Their corporate headquarters are in Folsom, California, about a 15 minute drive from the shop, yet they sell their products to retailers around the world!
This release, like the others, doesn't disappoint.  New transfers, like the Exploration transfer, pictured above and this Toile transfer.
I love Toile.  My dining room cushions are covered in toile and I just love it! I'd love to do some bedroom curtains in toile and now we can love on this new transfer!  Eight pages fill this new transfer.  Enough to embellish all sorts of things, like the drawer fronts of a dresser! Tons of options!
If you've visited their YouTube channel, you've seen wonderful photos and videos, about this current release.  Be sure to take a look, when you have a chance!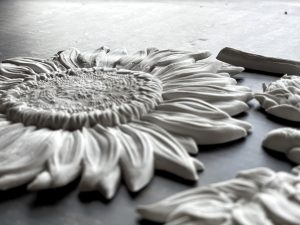 Between all of the new transfers, moulds and stamps, I'd have to say that my very favorite, is the Sunflower mould!
It's truly wonderful!  I see about 514 different applications, for upcoming classes!  Huge moulds, with wonderful detail!  Yes!
It may not seem earth-shattering to you, but this new design, for the new Trimmings 3 mould, is ingenious.  The moulds link together, making the final result more seamless.
Until I watched the sisters demonstrate the Silicone Paint Blades, on video, I was sort of clueless about their application.  Game changer!  I'd love to create some wall art on canvas, with these tools.
Not enough hours in the day here.  I swear, some people have a way of squeezing more hours out of each day.  I want to know their secret.  Staff.  I think I need more staff!  🙂
Well, my dear, there's more, but I hope you'll venture into the shop, for a look/see.  We're open Thursday through Sunday, 11:30-4:30.  We'll be looking for you!
Sending good thoughts your way!
New arrivals, classes, and creative inspiration
is headed your way!
Signup for our weekly newsletter
Follow Us For More Inspiration