The week at a glance!
July 1, 2021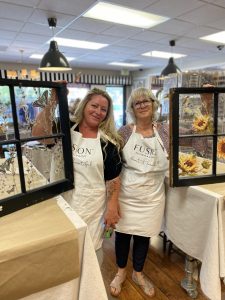 Hello darling!
I hope you haven't turned into "jerky" during this terrible heat wave!  We took Micah for his evening stroll and it was beautifully cool!  Just perfect!
Everyone had fun at last Saturday's vintage window class.  You all just love this class and I need to find more windows.  It's as simple as that!
Sunday morning, Mr. Wonderful made me his world famous waffles.  Just yummy!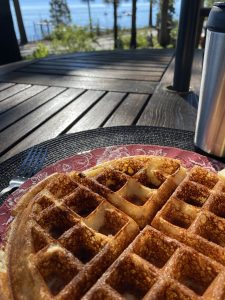 I then, ventured out onto the lake for my first kayak ride since November.  I knew it would be wonderful and wasn't disappointed!
Bob loves to take kids out on the boat and teach the to water ski.  He found these vintage training skis for free on FB Marketplace.  Pretty cute! They weren't needed this time!  Had some pro's on the boat!
Family joined Bob, around 6:30 a.m. for some skiing on the bay.  Perfect conditions, I heard.
I didn't know a a thing about it, because I slept right through til about 7 a.m.  Then I got busy making waffles, for the five of us.
Well dear, we unpacked a ton of new baby/toddler goodies today, in case you're in the market. Books and all sorts of fun things.  We got some darling sleepers in last week, with matching headbands.  True love!
Until next time, stay well.  Stay happy and join me in being forever grateful.
PLEASE DON'T FORGET THAT WE'LL BE CLOSED ON THE 4TH OF JULY!
Cheers!, Barbara
New arrivals, classes, and creative inspiration
is headed your way!
Signup for our weekly newsletter
Follow Us For More Inspiration