Travel tips and good times, in France!
April 26, 2023
Bonjour!
Hello friends!  We're back from a wonderful two weeks in France!  I was joined by dear friends and shop sisters, Linda and Darlene, plus, Jeanne, (who owns Little Bird Mercantile in Auburn) and Texas friends, Tinker and Carol.
Unlike many of you, my husband has no interest in visiting Europe.  Fortunately, he's always encouraged me to travel and I've found groups of women, over the years, to travel with.
I thought I'd take this opportunity to share some favorite spots to see, as well as travel tips, if you're ready to venture out!
Group tours: If you're new to traveling abroad, having a well-respected guide, is worth the extra expense.  I'm not talking about bus tours, I'm talking about small, easy to manage groups of 6-12 like-minded travelers. If you can organize a group of friends, the experience is all the richer!
I've traveled with a few different guides, but most often with Jill Mitchell. She's a Sacramento woman, who now spends about half of the year in France and owns a home in Provence.  She speaks fluent French and does great research, prior to the trip, to meet your expectations.  She specializes in the Provence region, in the south of France and the Loire Valley, in northern France. If you'd like, I can put you in touch with her.  She does tours during the spring and fall, which I think are the ideal times to travel just about anywhere!
This was my first time, visiting the Loire Valley, which  is much cooler in April, than Provence.  It's known for all of the castles and chateaus, built hundreds of years ago. They also make great wine, which we did our best to investigate!
We had a private dinner in a chateau one night, that was very fun, as the owners were there to welcome us, as if we were old friends.
We lodged in a renovated chateau, in the village of Amboise, that was very charming and close to shopping and restaurants.  It was near the last home of Leonardo de Vinci.  It's a stunning home and property and very much worth a visit.  He was an amazing artist and inventor, well ahead of his time!
We walked ourselves silly, so be sure to pack shoes that will withstand hours of walking and bits of rain.  Be sure you're up to walking 5-6 miles a day, by walking a month or two before your trip, to get in shape.  The up-side is that you'll be able to eat all the amazing sourdough bread and butter each day, without gaining an ounce!
We all thoroughly enjoyed our time at this woman-owned cooking school!
Our catered lunch and river boat cruise, was also delicious…although chilly!
After a short boat ride, we landed at an island, to enjoy a campfire and  lunch and delicious wines.  Our young captain was delightful and his mother packed all the blankets, to help keep us warm.  Thanks, Mom! (Jill, our guide and her pup, Fay, are pictured in the left of the photo)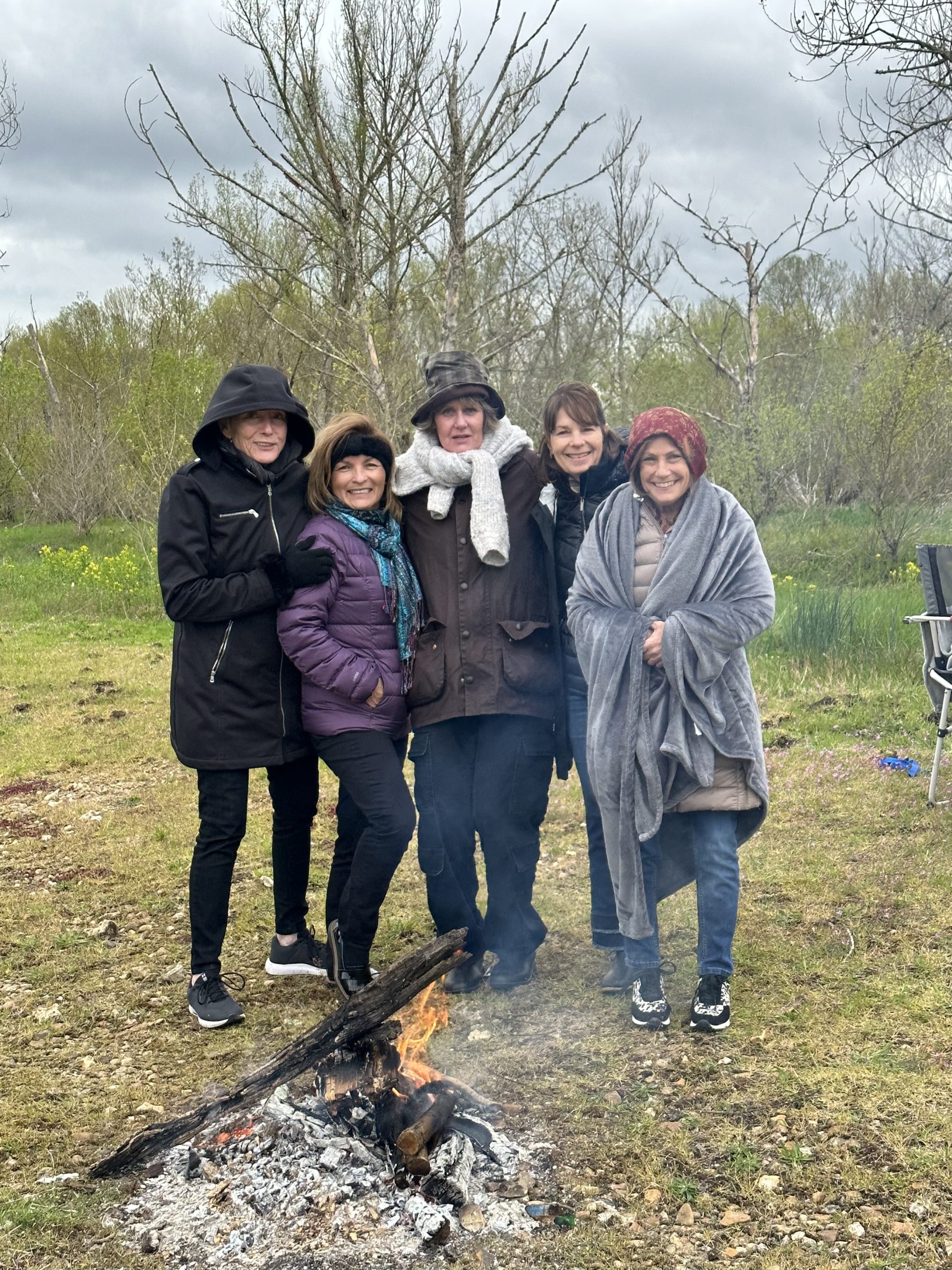 After almost a week in the Loire Valley, we headed to Paris.
While French protests were underway in Paris, most of us didn't notice them.  Still, Jill suggested we take a van to Paris, to avoid trains, being out of service. It was a good call and hardly more expensive that train fare and a lot more convenient.  (Another bonus of having a guide, with good contacts!)
Since we were self-guided in Paris, Linda and I came up with an itinerary, giving us at least one group highlight each day.  Linda was instrumental in making reservations, in advance.  You can't just show up and tour a landmark, like the Eiffel Tower, without tickets.  "Skip the line" passes, at the Eiffel Tower certainly didn't mean we skipped the line!  But by going to the Eiffel Tower's web site directly, rather than a travel site, Linda was able to save us some money!
Even though it was cold and windy, with lots of stairs beyond the elevator, we thoroughly enjoyed our champagne at the top!
Fun facts: The Eiffel Tower actually receives more visitors than any other paid attraction in the world! It was built as a temporary exhibit, for the 1889 World's Fair, in commemoration for the 100 year anniversary of the French Revolution.
What to pack: I should have brought this up in the beginning, but let's talk about what to pack!  Most of us packed everything in a carry on suitcase and under the seat bag.  Yes, it can be done and you'll thank me for it.  I brought very neutral basics, like a pair of black pants and a pair of jeans, scarves, to give a new look and two pairs of shoes…one of which…my Tennies…I wore on the plane, both ways. There are all sorts of packing tips you can find online and you'll get a pretty accurate weather forecast on your smart phone, before packing.
While we didn't go to France to shop for clothes, there's a wonderful chain called Mono Prix, that you'll find in most metropolitan areas.  It's like a Target on steroids!  Super fun and a must-visit, for me.
Being a self-guided group of ladies, we got lost a few times, but there are walking app's on your smart phone, that are a huge help.  Never did I fear for my safety.  We wore our purses under our coats, to not only protect them from the rain, but to make them less accessible to pick pockets and a couple of us wore fanny packets, with our most important things inside.
Here's what else we did…
Monet's Garden (pre-scheduled van ride)
Le Orangeries, to see Monet's amazing Lilly Pad exhibit, plus other artists
Pink Mama Italian Restaurant.  Reservations are very helpful!
Sainte Chapelle evening concert – reservations required.  I've sat in both the front of the chapel and in the back.  Both options are magical and not to be missed.  (Violin quartet, playing Vivaldi's Four Seasons) The church was built in the early 1200's and has withstood the tests of time!
Hop on Hop Off boat cruise.  We thought this would be a better option to the bus option.  If I did it again, I'd do the bus route, thinking it is easier to see sites at street level.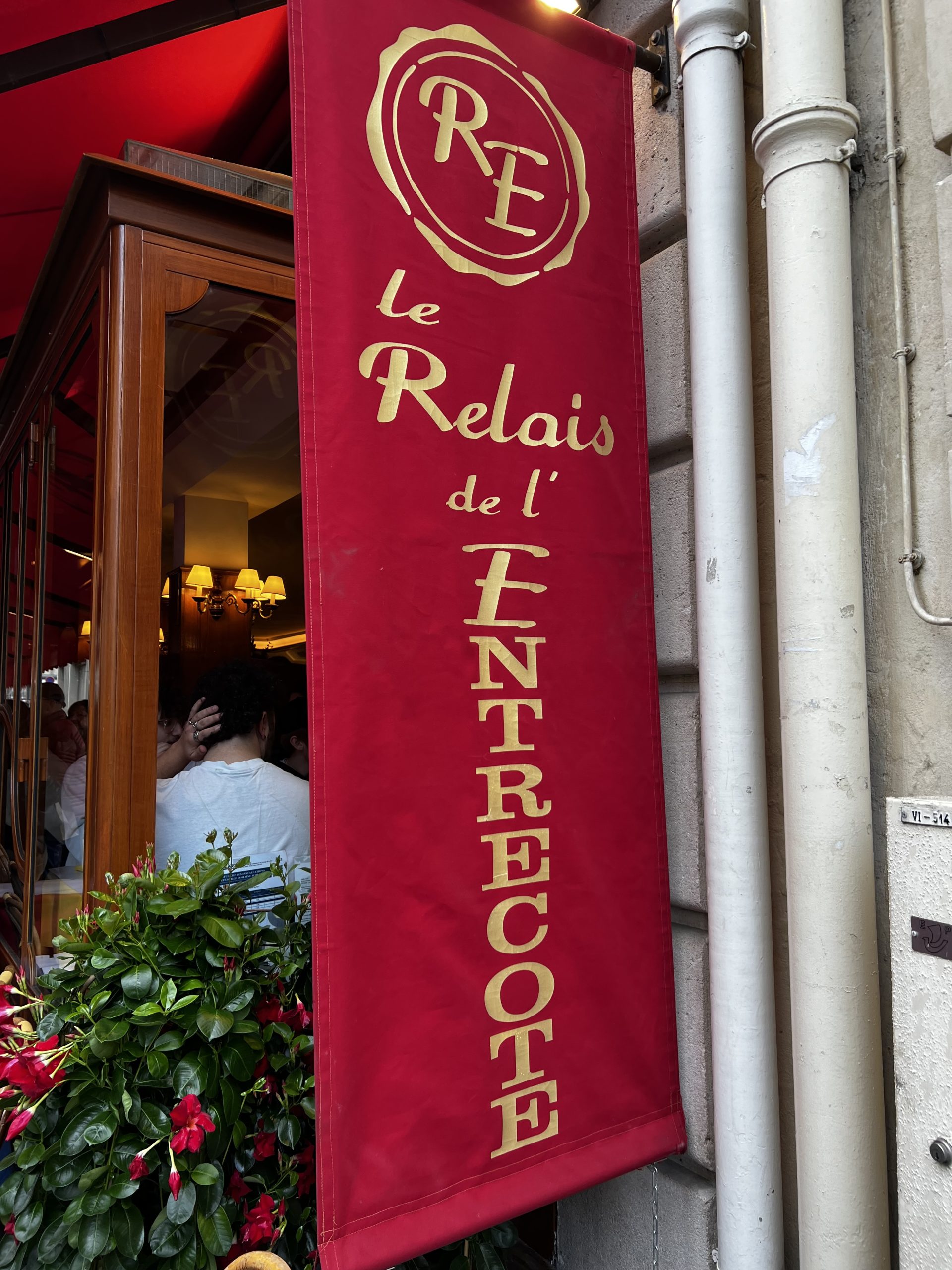 While you'll stay in line for 30-40 minutes, to get into this restaurant that doesn't take reservations, it was so good, that we went twice! One menu option…salad, steak (you tell them how you want it cooked), with a wonderful sauce and French fries.  Don't miss dessert!
Always a class act, I'll do anything for a laugh!
Food Tour. – Linda made reservations online and it was very filling and lots of fun!
Clignancourt – An antique fair that has been running forever.  If I go again, I'll get a guide.  It's huge!  I did find some of my favorite linens.  They cost a lot more than the last time I found them, in Avignon, so I hope you like them, too!
I hang a few of these towels in my kitchen and love them.  Of course, they're just for looks, so don't get any ideas about wiping your hands on them! Ha!


These towels are a thing of the past.  They were found in trousseaus of young brides.  Many of theses vintage and antique towels were never used and still have a stiff starch in them. Trousseaus are also a thing of the past and I don't see these linens sold new, so I treasure them! I only have a limited supply and I'll let you know when they arrive at the shop.  By the way, if you want to soften the towels, they need to be soaked in cold water, for 10 hours and then washed.  The more they're washed, the more they soften.
We stayed at Hotel does Marronniers, St. Germain des Pres.  Like many hotels, the concierge was very helpful, in giving directions and making  reservations for us.  (Tipping them and housekeepers is appropriate, when you leave) The rooms are small, which is common in Paris, but reasonably priced. The St. Germain area is very centrally located, in a safe area, walkable to wonderful sites and restaurants.
Speaking of walking, we used the underground Metro a lot!  Linda is a great navigator and the people at the ticket window speak very little English, so try to go with a plan.  Again, your smart phone is very helpful!
Window shopping was a favorite activity!  The displays are wonderful!  I also love seeing how both men and women dress!  Even though it was frequently raining, most women were wearing simple, elegant, single breasted knee-length wool coats.  Ooh la la!
Here's our Linda-Lou, in one of the many beautiful flower shops!
Monet's Lilly Pad exhibit at the Le Orangerie gallery.
Well, there you have it!  I hope you enjoyed this little recap of our tour.  If you have any questions, send them my way.  I highly encourage you to get out and see this beautiful world!  
P.S.: There are tons of new spring/summer arrivals and Mother's Day gift options at the shop, so stop on by!
XO, Barbara
New arrivals, classes, and creative inspiration
is headed your way!
Signup for our weekly newsletter
Follow Us For More Inspiration