Summer Sale continues, plus more!
June 29, 2022
Hello, darling!
Yes, it's true!  Our Summer Sale continues!
This morning, before the shop opened, I loaded another rack of clothing to our Half-Off Sale!  Just about everything else is 20% Off!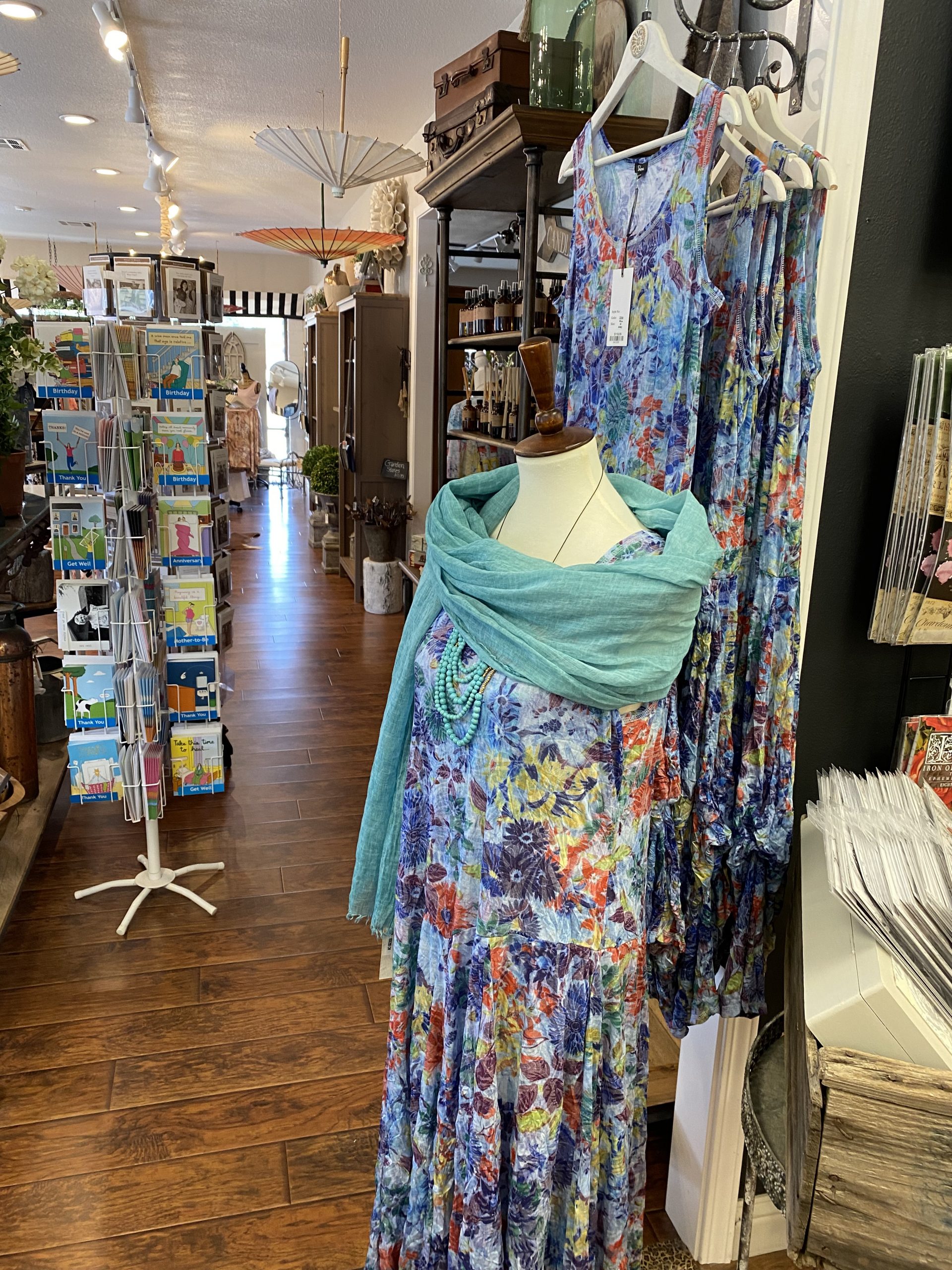 It's truly a win-win for both of us.  We get to reduce our inventory and you get some great deals!  
In other news…
We got to spend a couple of days up at Tahoe.  One high light was getting my 72 year old sister to go tubing! It was her first tubing experience and probably her last!  You never know!
Back at the shop…
We've been busy!  We restocked some of our new bamboo separates line.  Have you tried them on?  Sort of like wearing pajamas, but a whole lot better looking than any pajamas I happen to wear!
Our July & August workshop schedule is now on line!
New, for this summer, is our Introduction to I.O.D. Inlays, on July 30th.  This product has left many a customer (including myself) a bit intimidated and my goal is to change your mind.  (1 hour, $10)
This is a 2 x 4' version of the Chateau Inlay. While really pretty, we'll be working with smaller proportions!
I'm calling this 2 panel class "Seashells by the Seashore".  Pretty clever, eh?  The lovely Debbie Smith will be teaching this workshop, on Saturday, August 13th, ($45.00)
Check this out!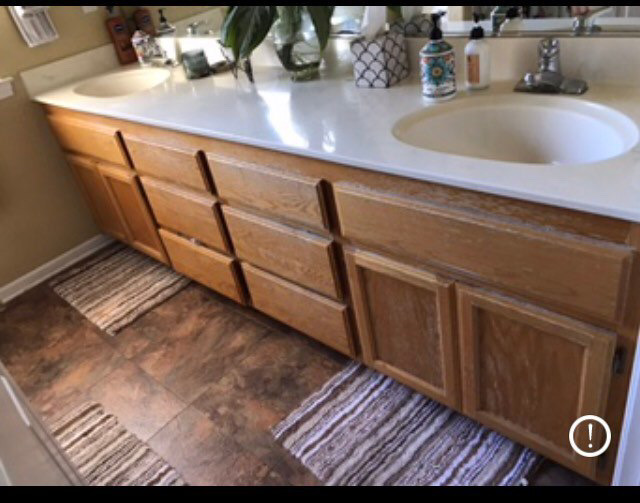 Great story!  Last Friday, novice painter, Hoalli, came into the shop and told me she wanted to paint the old oak cabinets, in one of her bathrooms.
Her husband just happened to be out of town, returning on Sunday…leaving her time to tackle this project!  Wisely, she told him of her plans, but wanted to get the work done, without him looking over her shoulder!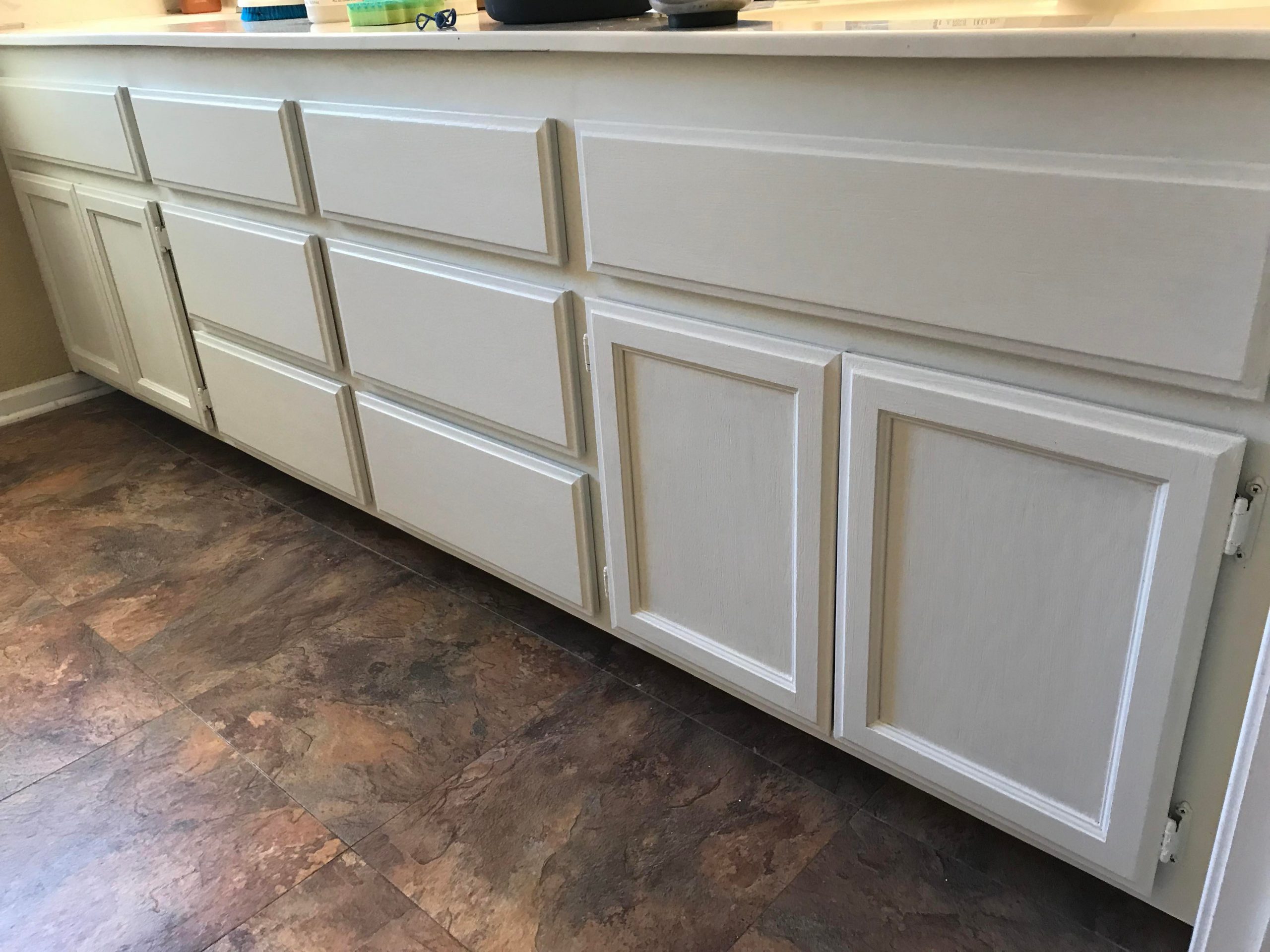 What a wonderful difference!  Painted in Fusion Mineral Paint's color, "Raw Silk", I'd call this a huge success.  Even her husband agrees!
With our 20% Off Sale, Hoalli spent well below $100 in supplies and is ready to tackle more projects!  Hopefully her husband has more business trips planned!  🙂
If you'd like to paint your cabinets, but would like a little more hands-on practice, consider taking our Cabinet Painting Workshop, on August 20th.   Not sure which color would work best for your home?  Schedule a complimentary color consultation, before class.
During class, you'll paint a real-live cabinet door and learn every trick in the book for success!   Many home owners start with their smallest bathroom or laundry room, to continue to gain confidence.  You'll save thousands and be able to say, "I did that!'
Take a look at our online calendar, Here!
Until next time, repeat after me, "I'm a beautiful person and can paint my own cabinets!"
XO, Barbara
New arrivals, classes, and creative inspiration
is headed your way!
Signup for our weekly newsletter
Follow Us For More Inspiration