Our Winter Sale Starts Now!
March 3, 2021
Hello friends!
I hope you're doing well, today! There's lots going on at the shop, so grab your coffee and gather around the camp fire!
Winter Sale, 20-50%!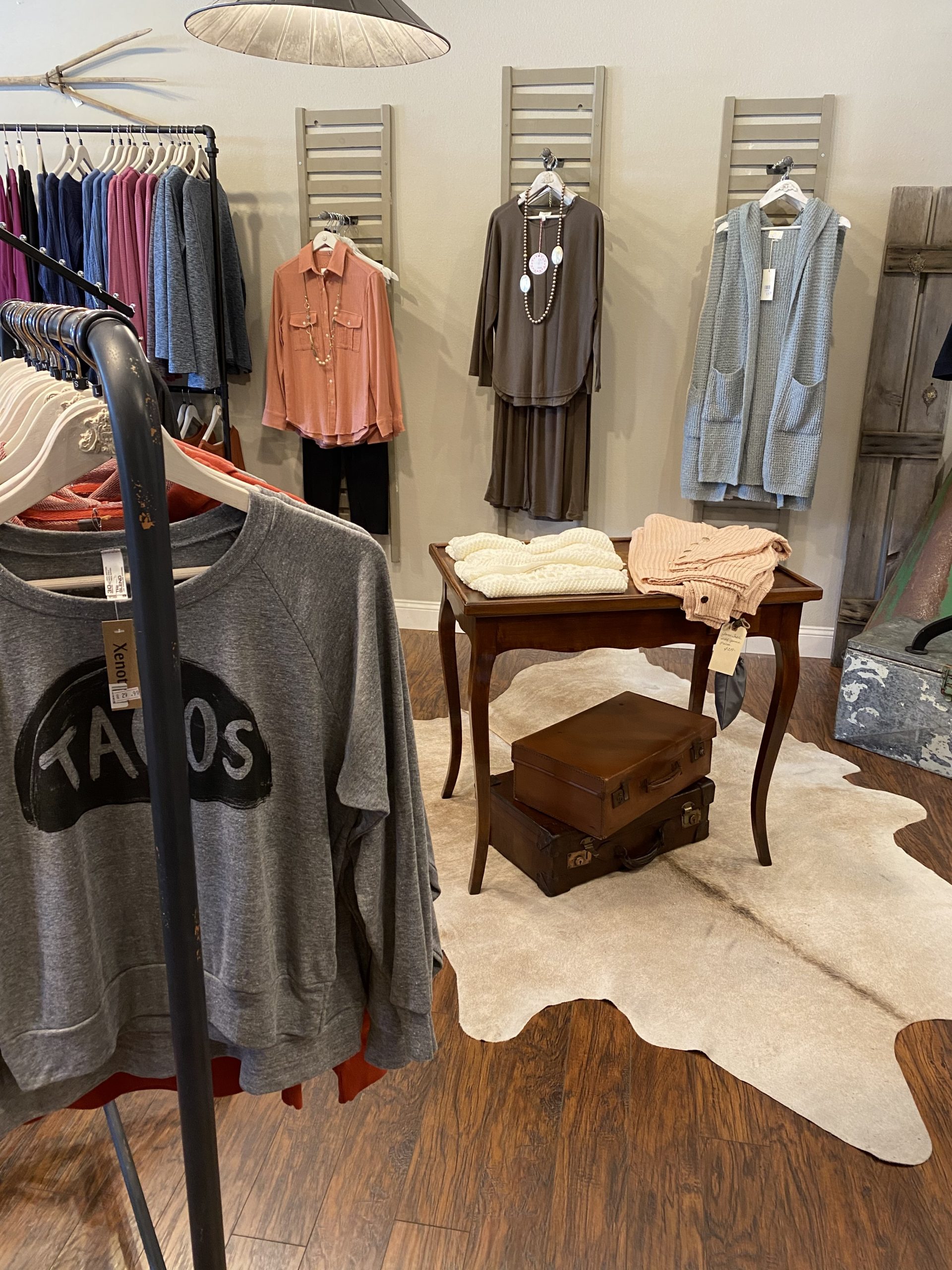 Yesterday, my trusty pricing gun and I turned the back room into our Winter Sale Headquarters!
You may have heard that I have no formal training in the world of retail or in fashion buying.  I'm sure there's wonderful software or a purchasing formula to do things properly, but I subscribe to the wing it approach!  So far, so good…but I start to get a little nervous as the end of a season approaches and I have ooodles of inventory.
And since I have monthly deliveries from Cut Loose and Democracy pre-ordered, now's the time for an inventory reduction sale! Are you with me?
These super cozy jackets are dreamy!  They are "one size", originally $85 and now $55!  There are generous discounts throughout the back room, ranging between 20-50% off!
All scarves are 20% off, including cashmere and angora!  Are you one of those smart people that buy Christmas gifts in March?
Sidewalk Sale!
Saturday only, we'll be having a great Sidewalk Sale!  It will be a wild mix of treasures, from the shop and our garages!  Leticia, the Topiary Queen, will bring a few more of her topiaries, for you to shop, as well!
Demo Day, this Saturday!
If you pre-registered for Saturday's Demo Day events, remember that Iron Orchid Designs' demo is at 11:00 a.m. and Fusion's demo is at 1:00 p.m.
Class Calendar
While our April classes have filled, we have two March classes with space for you!  You know Garage Sale Season is right around the corner!  Our Paint Your Own Piece class will have you fully prepared, to tackle the treasures you find!  Our decorative Tissue Box class, uses Fusion Mineral Paint and Iron Orchid Designs' decor transfers to turn a utilitarian object, like a box of tissues, into a piece of art!  Sign up for one or both classes Here.
Cow Hides are Here!
If you've visited the shop, you know that we love cow hides and have a number of them on our floors.  We have regularly had customers ask about purchasing them.  I had hoped to have them hanging and on display for you this week, but, they'll be up next week, for sure!  Our hides are first quality, large hides from Brazil.  One hide is in shades of gray and it's truly gorgeous.  Prices will start at $275.
Well, that's it for now.
Both of my kids live far away, so tonight, Andrew and I had a Face Time call, going through the goodies he left behind in his closet, when he left home.  He's 32 now, so I thought it was time.  🙂
We laughed about the fashion styles he wore back 15 years ago. (That would probably apply to me as well)  Best of all, was the box of trophies from soccer and little league, from back when he was in grade school.  There are at least ten of them!  There was a trophy for everyone, for everything, if you remember.  I wonder if they still do this?  Anyway, we laughed about how today he could have them seriously displayed on a bookshelf at home, or when he gets to be a big boss, he could display them on his credenza, behind his desk, for visitors to admire!  This was probably one of those you had to be there stories, but it's so good to laugh with my kids!  And thank goodness for FaceTime!!!  I don't know what I'd do without it!
Thanks for stopping by and stop in, next time you're in the neighborhood!  There are some killer deals waiting for you!
New arrivals, classes, and creative inspiration
is headed your way!
Signup for our weekly newsletter
Follow Us For More Inspiration