News from the Shop!
May 26, 2021
Hello again!,
Can you believe this is Memorial Day weekend?  I'm still looking for Easter eggs!
What plans do you have up your sleeve? Not being a fan of crowds, I'd stay home, if I were you. But, Betsy and her beau are coming out to the lake, in less than two weeks and we need to transition from winter to summer, up there, in a hurry.

The boat needs to get into the water. I have flowers to plant and cookies to make…wine to buy! Oh my!
My adorable new D.I.L. will be joining us as well!  Andrew will be at a bachelor party.  His loss! ❤️❤️ We'll miss him!
When they arrive, I want to be relaxed, with an umbrella in my drink, rather than feeling and looking like a hot mess!
Now, where was I?  Oh yes, hides!  If you've thought about adding a hide or two to your home, we have some beautiful pieces to choose from, many priced at $295! They provide an anchor for any space, creating a "wow" factor!
Take a hide on a 48-hour test drive and see if you love it in your home or office!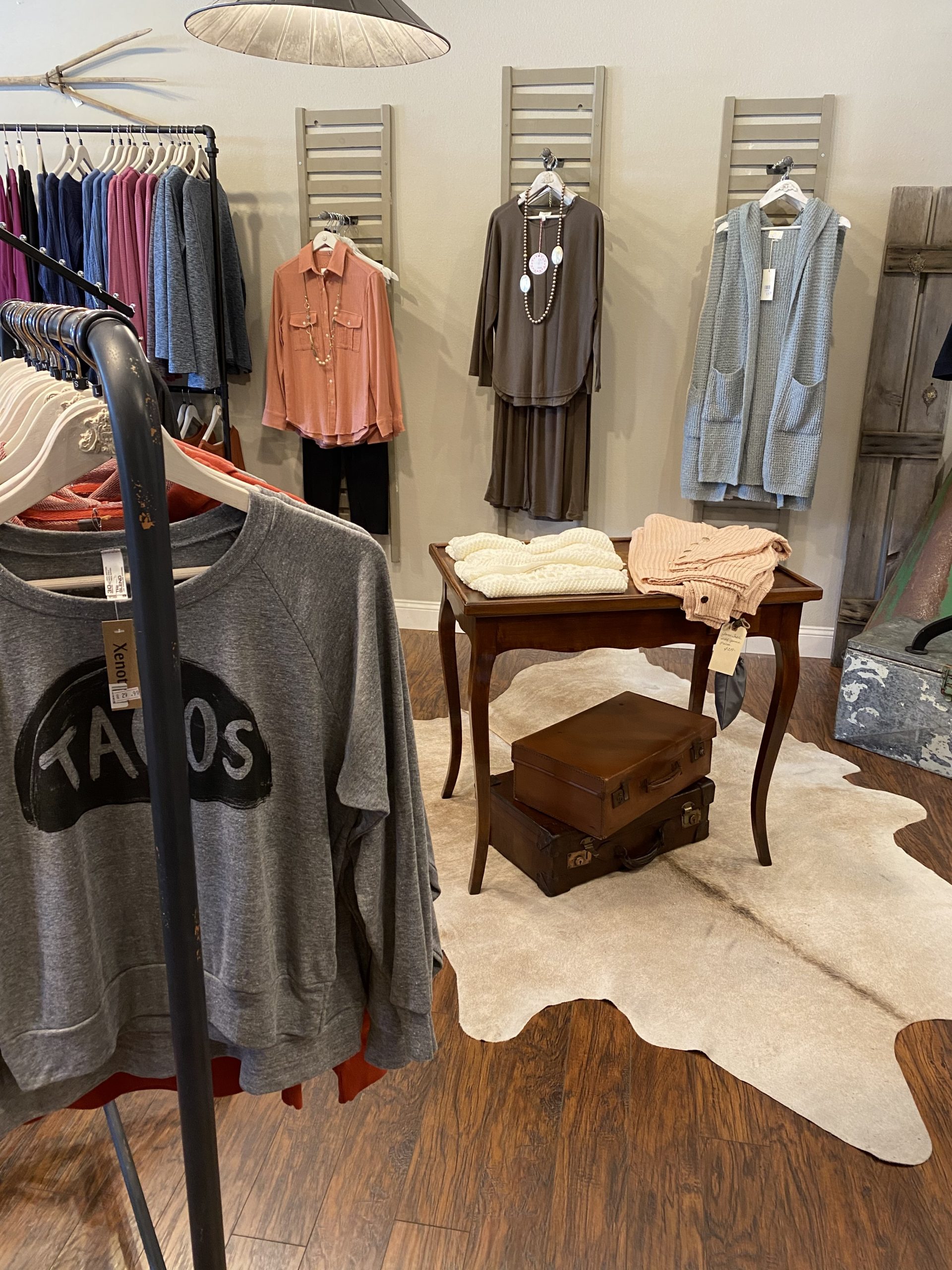 ---
If you saw today's Facebook fashion "show", featuring kimonos, you know we have quite a selection! They are a perfect piece to dress up jeans and a tee-shirt, or a super comfy, long midi black jersey dress! And they're ALL 10% off!


We got more of everyone's favorite dress!  Yellow this time.  I'm not sure if they'll get more colors back, but I'll be checking.  With or without pants underneath, we can't keep this dress in stock. It seems to flatter just about everyone!  The black and cream dress is a new fave that I hope you'll check out!
Democracy Jeans arrived this week, too!  Bermuda shorts are perfect for the  oven-like temps, coming our way next week!
We are having a steaming party tomorrow!  As you can imagine, we all fight for the chance to steam new clothes! 🙄 Stop in and see all the new arrivals!
Uno de 50 jewelry, from Spain, is quickly selling off.  We'll be increasing the discount to 30% OFF as we discontinue this beautiful line.
Well, kids, that's all I have to share with you, this week!  We won't be open Memorial Day, but we'll be at your service, this Thursday through Sunday, 11:30-4:30!
Remember to say your prayers and share a smile with someone who needs it today.
New arrivals, classes, and creative inspiration
is headed your way!
Signup for our weekly newsletter
Follow Us For More Inspiration