A whole lot of painting going on!
February 17, 2021
Hello Friend!
Even though it seemed like I hadn't painted a piece of furniture in forever and a day, low and behold, I can still do it!
One of our many dear customers donated this traditional antique dresser to the shop last year.  It appears to have had a few prior make-overs. Originally, I'm sure it was stained.  Then, someone painted it a lime green.  After that, it became black.
And that's the beauty of paint.  Your piece of furniture can have many make-overs in its lifetime.
After Mr. Wonderful did a thorough routine check up, I cleaned, filled nooks and crannies, power-sanded, hand sanded and then started painting.  The previous owner installed newer 4" drawer pulls, that really didn't fit the period of the piece, so I filled the extra holes and installed simple wooden knobs.  (IOD provides us with unpainted knobs, that are perfect for this use.)
Next up, is this antique oak high boy.  Bob, a.k.a., the man of many clamps, gave this beauty a bit of glue, a good clamping and a whole new beginning! I'm so fortunate he enjoys this work! His dad and grandfather taught him how to do things right.
_________
I've been cut off!
After unpacking and steaming several clothing deliveries last week, the Shop Sisters have told me to stop buying clothes!  We laughed about taking a photo of me, with my wrists bound, so I wouldn't be able to place orders on line.
I keep adding to the sale rack, because we are a wee bit overstocked.  Come help me out!  I still think that all of Sacramento knows that we carry fun, reasonably priced casual clothing.  Yes, it's a work in progress!
Plus, we'll be getting monthly deliveries in from Cut Loose soon, through the first of summer.  Do you know about Cut Loose?  They're a family owned clothing manufacturer, out of San Francisco.  They dye, cut and sew all the garments in San Francisco.  I understand that this Covid stuff has been hard on the company.  I'm sure that's the case with many in the biz!
What I love and respect about Cut Loose, is that they are American made.  A California company surviving in a difficult business climate.  Best of all, the clothes don't need special care.  You can wear them season after season and just throw them in the washer, as needed.
In the Makery…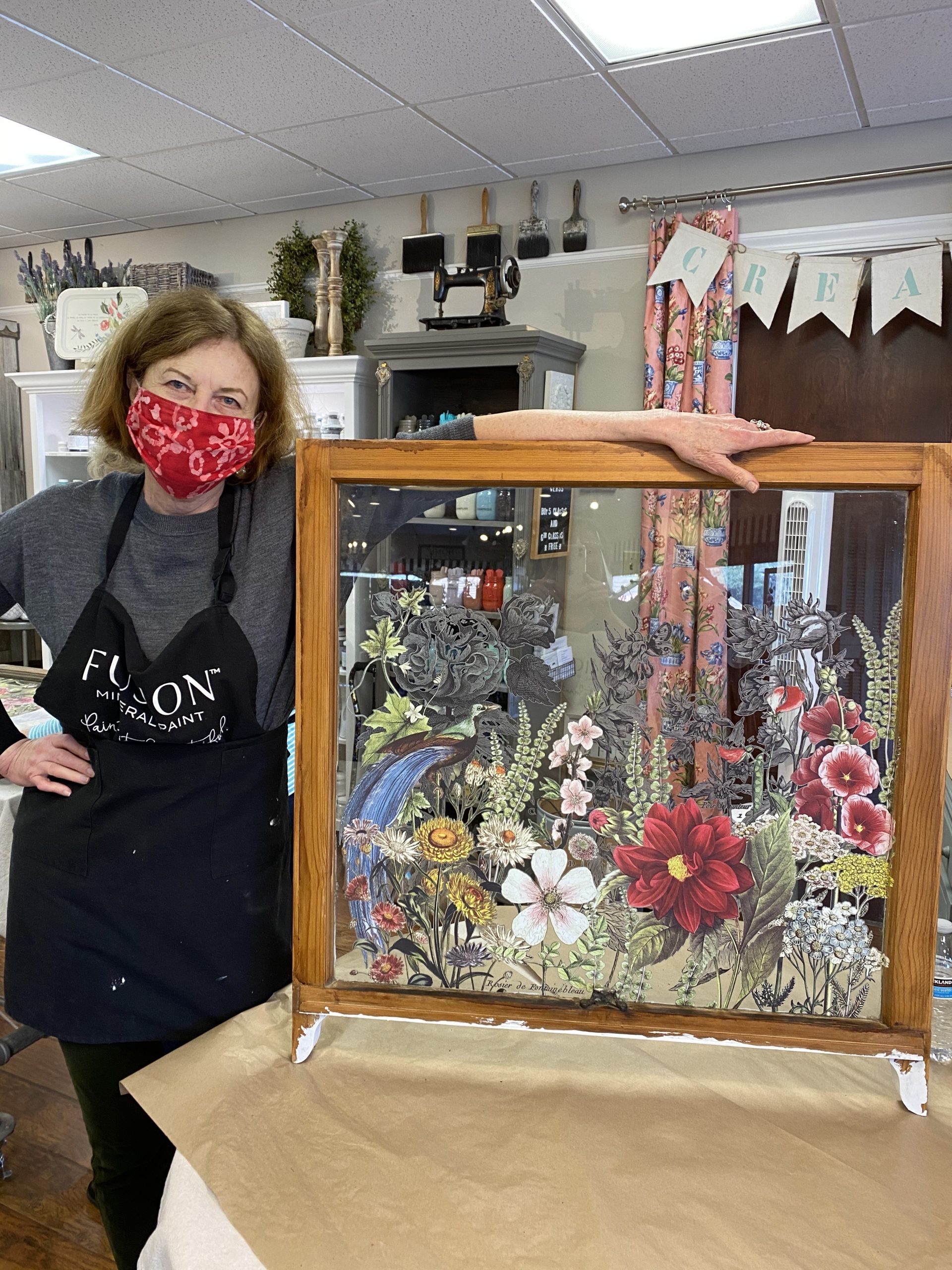 My dear friend, Karen, took our window class last weekend.  She loved it and I loved having her there!
I met Karen in my twenties, when I sold food to foodservice accounts for Sysco.  We easily formed a lasting friendship and the rest is history.
Personalized Journal Class this Saturday!
Sometimes I amaze myself.  Not in a good way!  I posted this class on line, two months ago and never provided my web site master with a photo.  Any wonder why we only have two sign ups for the class?    I still don't have a photo, so let me paint a word picture!
In this class, you'll take a hard back journal with lined pages and transform it into your personal thought bank.  You'll have pretty much free access to paint the cover, stamp and add moulds to your book, as you choose. Of course, I'll be there with a never ending supply of free advice.  The book is about 8 x 10" in size.  You can learn more and sign up here.
Last, but not least…
I need to warn you kind, generous people about some pretty awful imposters out there, in relation to your computer use.
Just this week, my computer was hacked.  While trying to access a site, all of a sudden a warning screen popped up.  The speaker started playing a recorded message, urging me to stop and call the Microsoft number on the screen, because my system had been infected.  Scam!!
Then today, I got a text, supposedly from PayPal, asking if I authorized a charge for $499.00.  No! Another scam!
Please be aware!
That's it for now!  Please stop by and say hello!  We're open Thursday through Sunday, 11:30-4:30.  
Until we meet again, wash your hands, get your vaccine and say your prayers!
New arrivals, classes, and creative inspiration
is headed your way!
Signup for our weekly newsletter
Follow Us For More Inspiration