Sweetheart Sale at the Shop, this Week!
February 10, 2021
Hello, friend!,
I hope your week is going well!  I spent half of today, thinking it was Tuesday. Good thing Mr. Wonderful set me straight!  Maybe it was wishful thinking…that I wasn't so behind schedule!
Sweetheart Sale!
You probably know about our jewelry, but if you're new to the shop, let me fill you in!  We stock Uno de 50 and Trades (both made with silver plate, in Spain). We carried Trades a few years ago and brought back some of their bracelets with the magnetic closures, that you like.  We also carry Brighton, which is also silver plated, as well as small, hand-made pieces from artisans I've met over the years.
20% Off!
All jewelry* will be 20% off, Thursday through Sunday, just in time for Valentine's Day! If you make a boo-boo in your selection, your friend or sweetheart can return the piece for a exchange or credit, within 2 weeks of purchase.  *By the way, Brighton will not be on sale, as per their policy.
This Saturday, is another vintage window class.  
I wish I had a bunch more windows, because you love this class!  I'll let you know if I strike the motherlode again.  Fingers crossed!  By the way, Iron Orchid Designs is giving all of their retailers a preview of new designs, next week.  They're retiring many old favorites, to make room.  It's always so fun to see what they've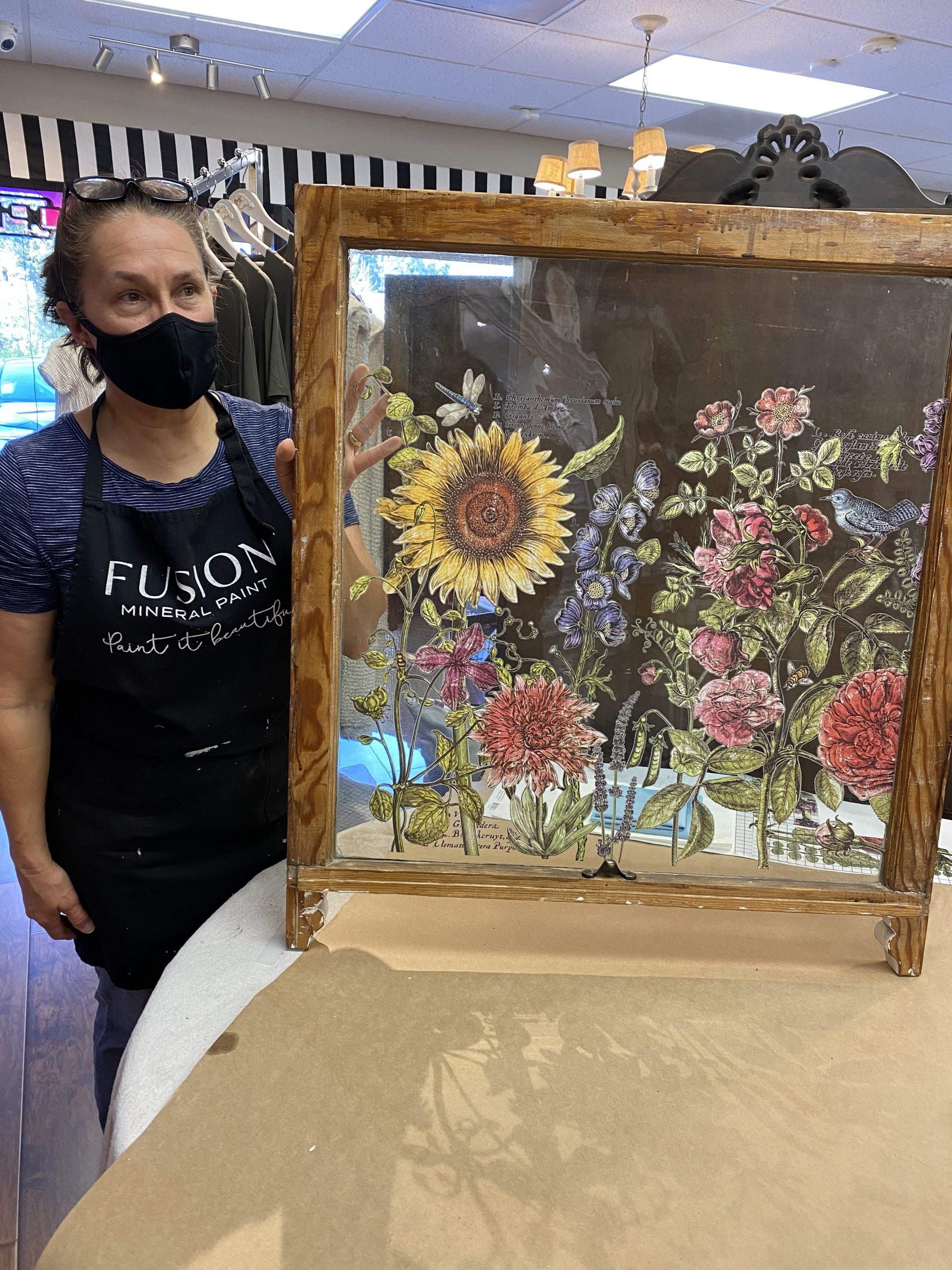 Oh baby!
There are so many adorable baby gifts on the market!  It is such a kick to find the ones that just melt my heart!  Today we received new goodies and one of my favorites is this Baby's First Handprint Kit!  Oh my gosh!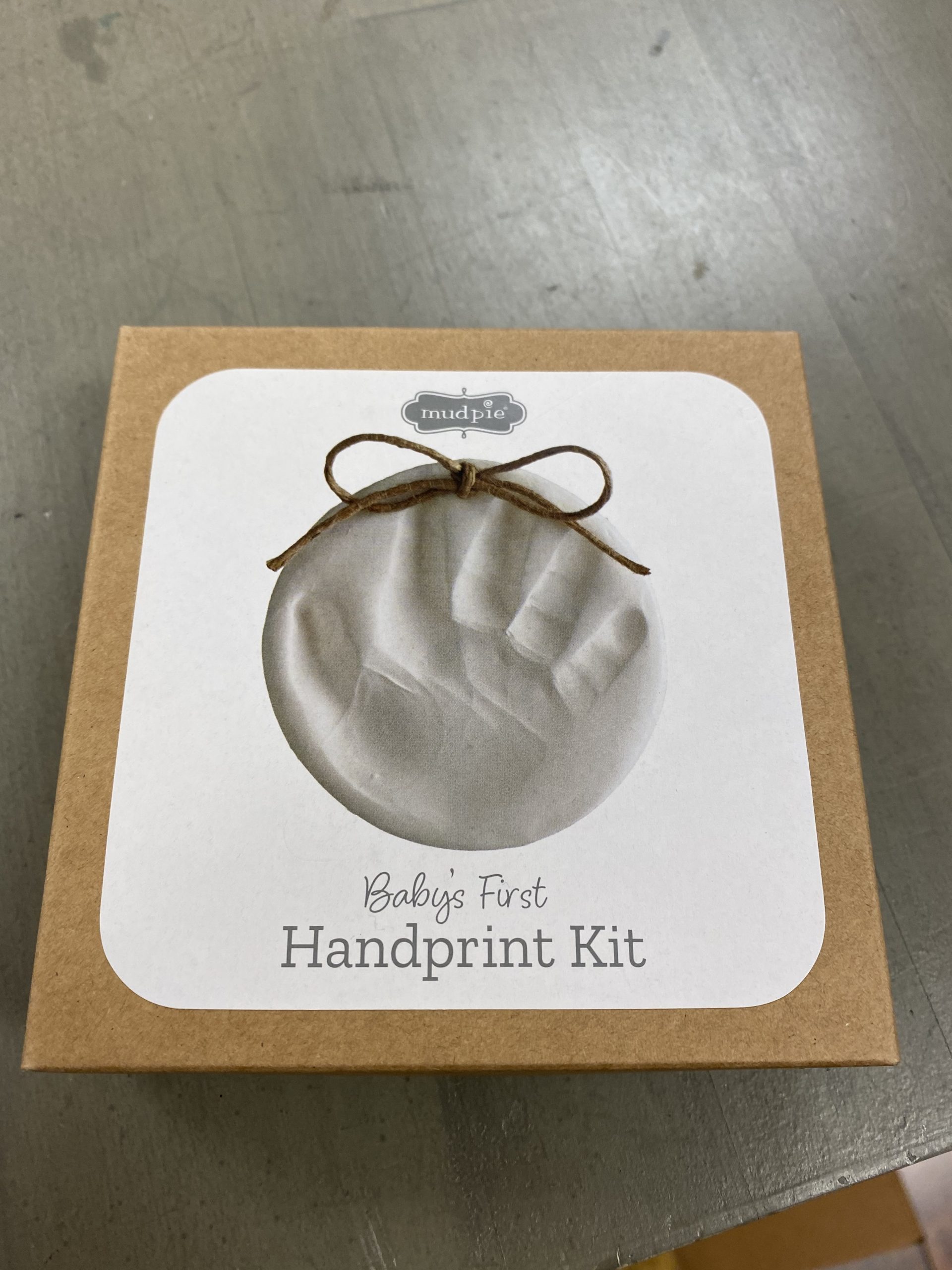 Then there's a Tooth Fairy astronaut, that wears a backpack.  Of course, that's where the tooth goes, for the TF to pick up and for the $$$ to be inserted!  What's the going rate for Tooth Fairies, these days?  I shudder to think!  🙂
…and look at these new pink booties, with ginormous pom-poms on them!
Clothes, clothes and more clothes!
Just in today, from Democracy, are new jeans and this beautiful blouse!  It's so pretty and feminine!  I've re-ordered the Democracy girlfriend jeans, since you love them so much.  Should arrive next week.  There's lots more!  See that box on the floor? ❤️❤️❤️❤️ So pretty!  Darlene and I are rolling dice tomorrow, to see which lucky person gets to steam clothes tomorrow!  (Not a favorite task, you might imagine!)
We got fun, inexpensive kimonos in last Friday.  We also have a cozy-comfy new hooded sweatshirt and tees, that are pretty fun!
Some of our tee's are unisex, in case your better half is a taco addict!
Well, kids, that's about all I have for you this evening.  Until we meet again, count your blessings and wash your hands.  A lot!
New arrivals, classes, and creative inspiration
is headed your way!
Signup for our weekly newsletter
Follow Us For More Inspiration