A trip down Memory Lane!
September 2, 2022
Greetings!
This is a long one, friend!  Grab a cup of coffee or a shot of tequila and stay a while!  Enjoy!
I have so many wonderful memories of the workshops and events we've hosted over the years!  There were scary times too, like hosting the first workshop, shortly after we opened.  We were originally stocking Miss Mustard Seed's Milk Paint and I was so anxious about teaching my first workshop, that I offered the class for free!  I figured that attendees wouldn't feel cheated by poor instruction, if they didn't pay for it!  It relieved some of the stress for me and everything went fine.
The best part is the sense of community, that I feel in our workshops.  While men show up, from time to time, it's often women, getting together with friends or family. I want it to be a chance for women to get away from the stresses of family, work and life!
I've heard amazing stories, some of you have shared, of how you're caring for a sick loved-one and my hat goes of to you!
I wish I could find a photograph of the shop in the beginning!  I remember arranging things to try and make it look like the shop was full…when it wasn't! I opened on a shoestring budget, because I didn't know if I'd be able to pull the whole thing off.  Of course, I've had many times over the years, when I asked myself if I could make the whole thing work.  
Here's a photograph of a paint and sip class, taught by my dear friend Jean Lamoure.  She's a wonderful artist and we're fortunate to have a number of her pieces in our home.  You may notice that this was before Iron Orchid Designs.  Our back wall is now filled with their moulds!
This has been one of my favorite classes to teach.  I love making generic objects, like tissue boxes, pretty!  I should schedule this class again!
This class, and the woman in the photo, is another favorite!
It's one of those classes that always turns out great!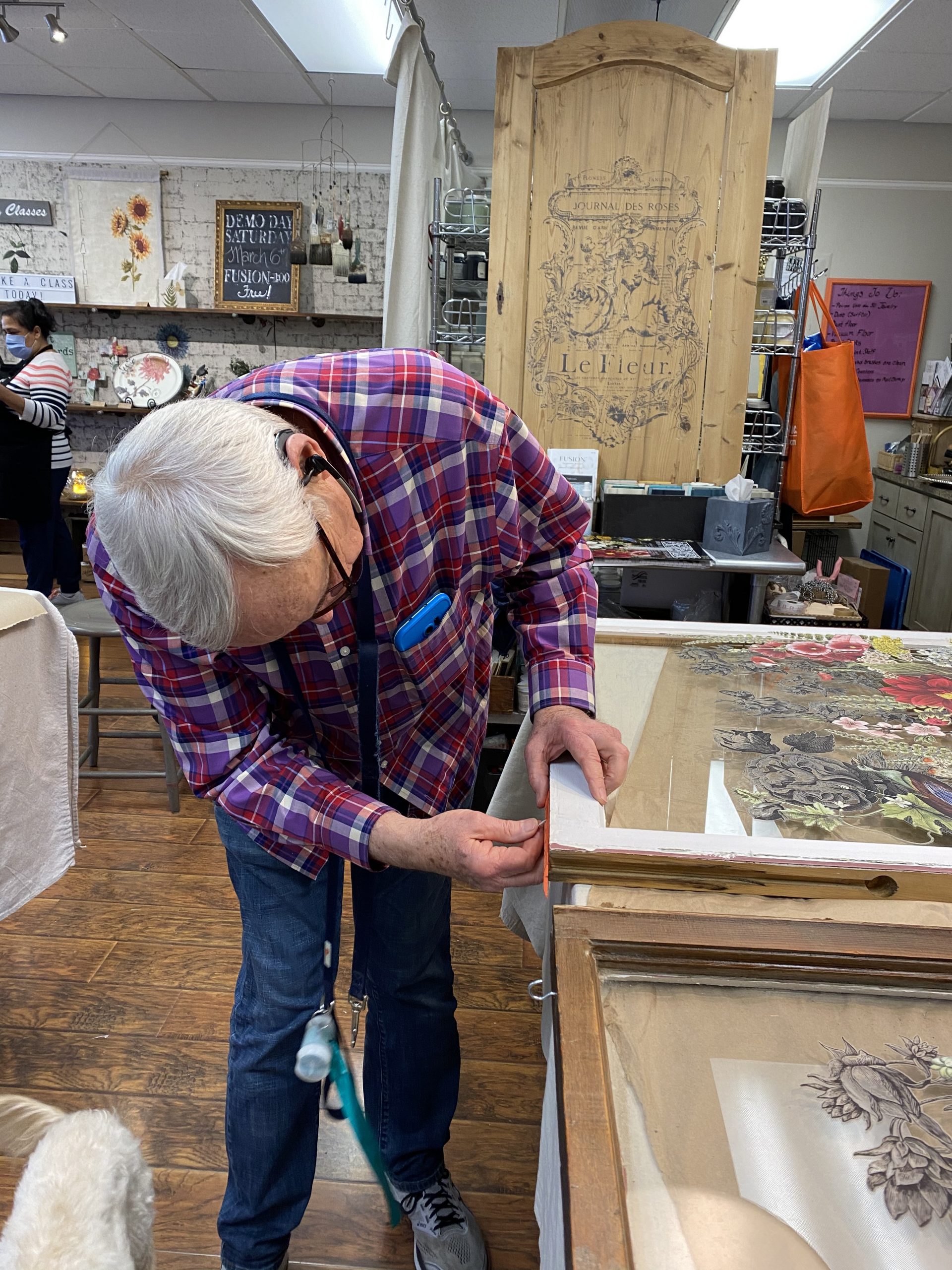 This man, Mr. Wonderful, is always there to help!  The whole shop "reset" couldn't have happened without him!
More of my favorite "peeps", taking our silver tray class, that's being offered again, this fall.  You can sign up Here!
Here's my dear friend, Karen, whom I met in the 70's.  She was a buyer/manager, at the U.C. Davis Coffee House and I was one of her reps.  We could tell some stories!  Ha!
Another class, I need to bring back and a lovely "regular" at many of our workshops, over the years.
Patti and her sister, Kim should probably receive their masters, by now!  They've been such wonderful supporters of our workshops and I am so grateful to them and all of you who have joined us, for a class!
More sweet faces!  Dori, Debbie and Kathy are guest instructors who have brought their unique talents, to the shop, teaching workshops.  Bless you, all!

Great news!
We have found ourselves a new Charcuterie Class instructor!  I'm hoping we'll get classes on the calendar, for November and December, so you can WOW! YOUR holiday guests!  Stay tuned!
What are you doing on October 22nd?  We had such great success filling our Pumpkulents workshop on 10/29, that we scheduled another workshop, for Saturday, 10/22!  Sign up Here!
Cheryl, our newest "shop sister", will be teaching this 12×16" "Queen Bee" class, this month!  You'll learn every technique under the sun, including, decoupage, stamping and making moulds! You're welcome to change the wording…how about "bee kind"? Anywho, sign up Here!
If you aren't one for workshops, please come see our new shop space and check out our huge Clearance Sale!
Our Fusion Mineral Paint online store, is back OPEN! Check it our Here!
I'm so grateful to have you in my life!  You just make it better and I hope we always return the favor!
XO, Barbara
New arrivals, classes, and creative inspiration
is headed your way!
Signup for our weekly newsletter
Follow Us For More Inspiration