Our 10th Annual Holiday Open House Starts Today!
November 3, 2021

Greetings!
The Treasured Home opens today, for our Holiday Open House!  We're packed with new arrivals and holiday treasures!
My friend and floral artist, Penny Reisig, helped me create this pretty arrangement, this week.  Not all holiday decor needs to be red and green, right?
I just love the silly characters!  They make me smile, when I see their faces!
Besides, the holidays are for the children and making the rest of us feel like kids again!

Mr. Wonderful harvested some pine cones, direct from Lake Tahoe.  As usual, they're free for our wonderful customers!
Have someone hard to buy for?  These gorgeous cashmere shawls should do the trick!  Whether sitting on the sofa, or out for dinner, they make a perfect companion!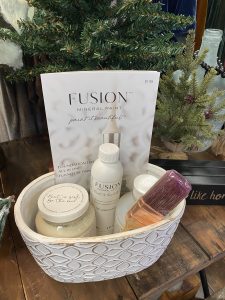 If someone you know wants to try their hand at painting furniture, this can make a wonderful gift.
How about taking a class with a friend? This Santa Tray class is on the calendar in both November and December.  🙂  The Charcuterie class in December is filling up, so now's the time to make plans to take a class!
Last, but not least, I almost forgot to mention that our Wheel of Fortune will be making  everyone a winner throughout the week!  Win a free class, or discounts on purchases.
Tregae has promised to provide sweets to give you extra energy to shop, so we're good to go!  So saddle up and head on over.  As my friend Normie says, Y.O.L.O.  You only live once!
It's time to live-it-up at The Treasured Home!
XOXO
_____________
Fusion and IOD Price Increase
In all the years we've been retailers for Fusion Mineral Paint and Iron Orchid Designs, there has never been a price increase…until now.
As you've probably heard, the cost of raw materials, shipping and production have all been going up.  I mentioned this to you in last week's newsletter, that as of today, November 4th, Fusion Mineral  Paint pints will be $24.95.  IOD Moulds are going up to $24.95.  
Thanks for your understanding and support!
New arrivals, classes, and creative inspiration
is headed your way!
Signup for our weekly newsletter
Follow Us For More Inspiration