We're having a Paint Party…plus more!
July 14, 2021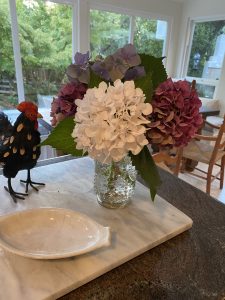 Hello Sunshine!,
I'll bet you're as grateful as I am, that the triple digit temps are behind us…at least for a bit!
I cut these hydrangeas yesterday and just love the color! If you have the outdoor space, with partial shade, I highly recommend this plant for your garden.  Low maintenance and if pruned properly, they bloom like crazy!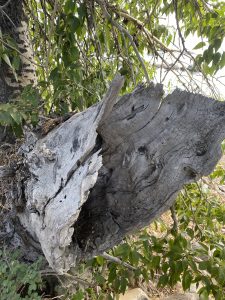 One business I'm glad I'm not in, is cameras!  I've owned a couple of good cameras, but gave them up when the iPhone offered such wonderful photographs!  This is an old tree stump I see on my dog walks, with Micah, up at Tahoe.
And check out this poor tree that some creature has taken advantage of!  I'm searching for moss, bird feathers and anything interesting, for our Wreath Building Workshop, this fall.  Have you checked out our Fall class calendar Yet?   Sadly, many of the photos are missing, but give me some time and I'll have them up.  You know, I wear a lot of hats, probably like you.  When I am at the shop, I bounce from project to project.  I need to be locked in a workshop, by myself, without distractions.  Not likely to happen, thankfully!
_____________
This weekend, in the Makery…
We're excited to introduce you to Fusion Mineral Paint's new color line up!  We're talking about 11 soft, luscious new colors!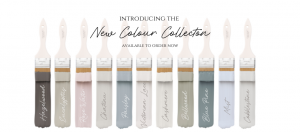 We've got them all in stock, under lock and key!  We swore on our Professional Painter's Handbook, to abide by Fusion's request.  All of their retailers, around the world,  will start selling these lovelies, this Saturday, July 17th! 
To celebrate, we'll open an hour earlier, this Saturday!  10:30, that is!  We'll have coffee and sweet rolls, along with big paint sticks, lots of brushes and PAINT!  If you have never used Fusion, this is your chance to take a free test drive!
We also unpacked one of our largest Iron Orchid deliveries today.  If it's available at IOD, we have it!  We have also done some research and found that in many cases, our pricing was a bit too high.  So our transfers and stamps are now 10% lower.  Good news!
We also restocked our JRV Decoupage papers this week, as well!
_______
In our boutique, will be new additions for you to check out! We may still be steaming them, if you stop by tomorrow.  Rest assured, we've sold plenty of clothes, fresh out of the box.  Either way, we all love seeing the new arrivals!
Another Brighton shipment arrived today as well, including more sunglasses! In case you ever wondered, yes, your optometrist can install prescription lenses in Brighton frames!
More Myra Bags should be arriving any day!
______
Well, there you have it.  Most of it, at least!  I'll be in and would love to help you with your next paint project.  Thanks to Mr. Wonderful, I'll be finishing up a darling antique desk tomorrow.  It has original hardware that's as pretty as the piece itself!
Have a wonderful day, with a smile in your heart!
🙂
New arrivals, classes, and creative inspiration
is headed your way!
Signup for our weekly newsletter
Follow Us For More Inspiration