Welcome to the weekend!
August 11, 2022
Hello, gorgeous!
What are you doing tomorrow?  How about joining guest instructor, Debbie Smith's "Seashells by the Seashore" workshop.  There's lots to learn…stamping, creating moulds and that mottled finish, that I love in the background!  Better yet, you'll make both framed pieces for just $45.00!
If you go to our workshop calendar, found Here!, you can sign up for tomorrow's class and check out our New Fall Workshop Calendar! 
How about taking Dori's Pumpkulent workshop, on October 29th?
Pumpkin + Succulent = Pumpkulent
Who knew?! Leave it to Dori!
I shopped new Myra Bag styles, when at Market, recently and they arrived today!  You know, it's OK to have more than one Myra Bag!  Plus, they make great gifts!  Weekender bags, cross body, back packs, you name it!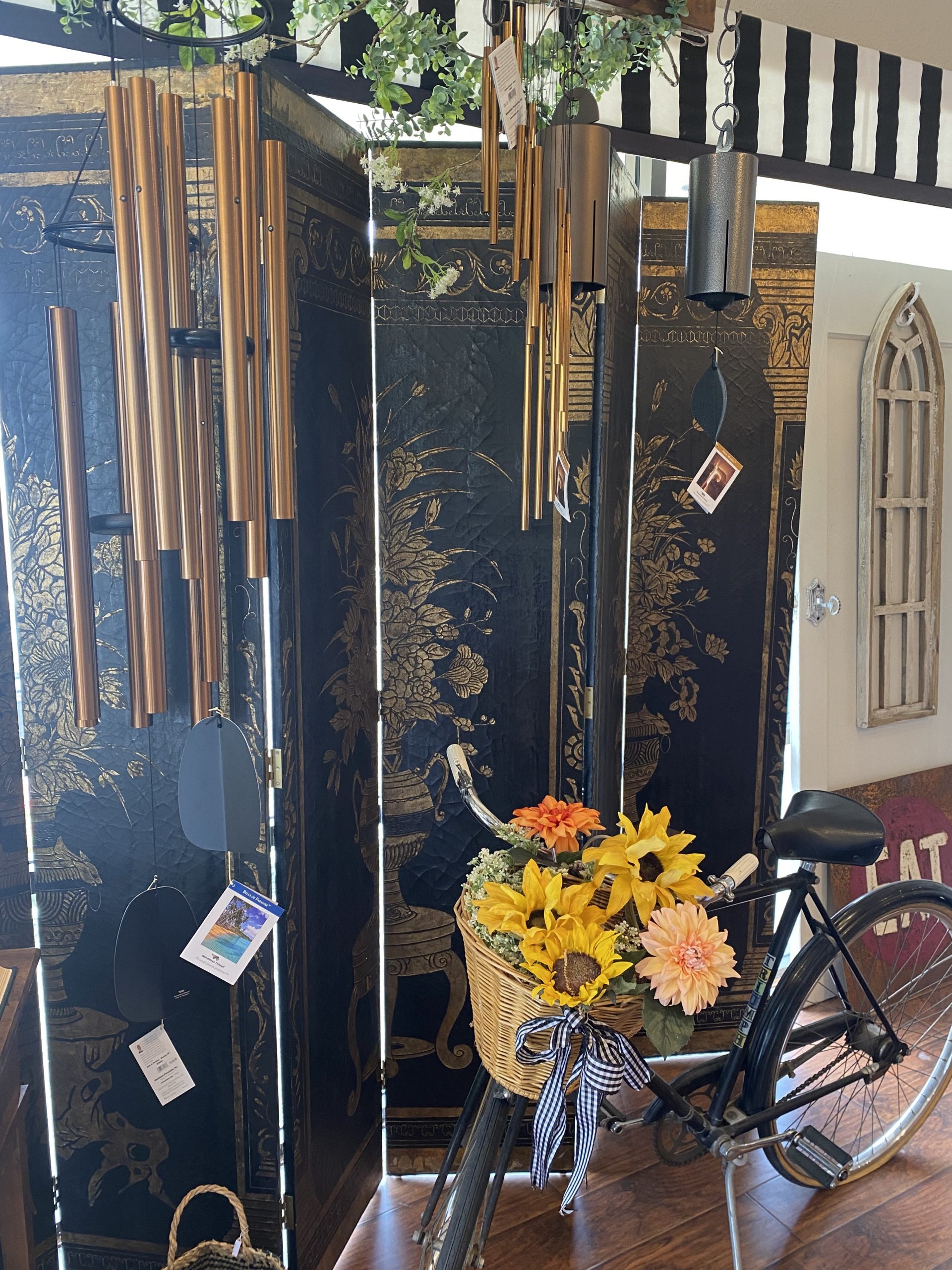 More wind chimes are back in stock, too!  These chimes sound heavenly and make great house warming or wedding gifts.
Did you see this painted antique vanity, that we applied an IOD decor transfer to?  What a beautiful difference!
I'll be up at Tahoe for the coming week, visiting with my daughter and her family.  Sadly Andrew and Nina couldn't join us, this time. They all live across the country and I almost feel bad, asking them to put up with a day of travel and all that entails, these days!
Bob is so excited with his new 3-person inflatable "tube" that he'll be pulling behind the boat!  It sounds like a hilarious ride and I may just have to join in!
I'll be documenting all the silliness, taking photos, so be on the look out!
I have to share…
Are you ready to treat yourself to an amazing facial?
I don't get facials often.  They're relaxing and I'm sure they're good for our skin, but until recently, they've all been so-so.  Well, let me introduce you to Gabriela, who recently opened her own studio…Serene Aesthetics.
Gabriela was trained years ago, in Vienna, Austria and was the only esthetician at Nordstrom, Arden Fair, for thirty years, before they closed the store.  I promise you, this is not any ordinary facial!  Before she treated my face, she massaged my back, then my face, then my feet and my face and arms…an hour and a half of pure joy. You will love her!
Well, dear one, that's all of the big news for now.  I'm sending good thoughts your way and hope our paths cross again soon.
XO, Barbara
New arrivals, classes, and creative inspiration
is headed your way!
Signup for our weekly newsletter
Follow Us For More Inspiration