This week at the shop! Don't miss this!
December 5, 2022
Holy smokes!
How the heck are you?? It seems like forever, since we'e talked!  Life has been a blur, since Thanksgiving.  I'm not complaining.  It's been good.  Just a lot!
You showed up, for a really busy Small Business Weekend Sale! I'm hoping you got to put a dent in, or completed your Christmas shopping!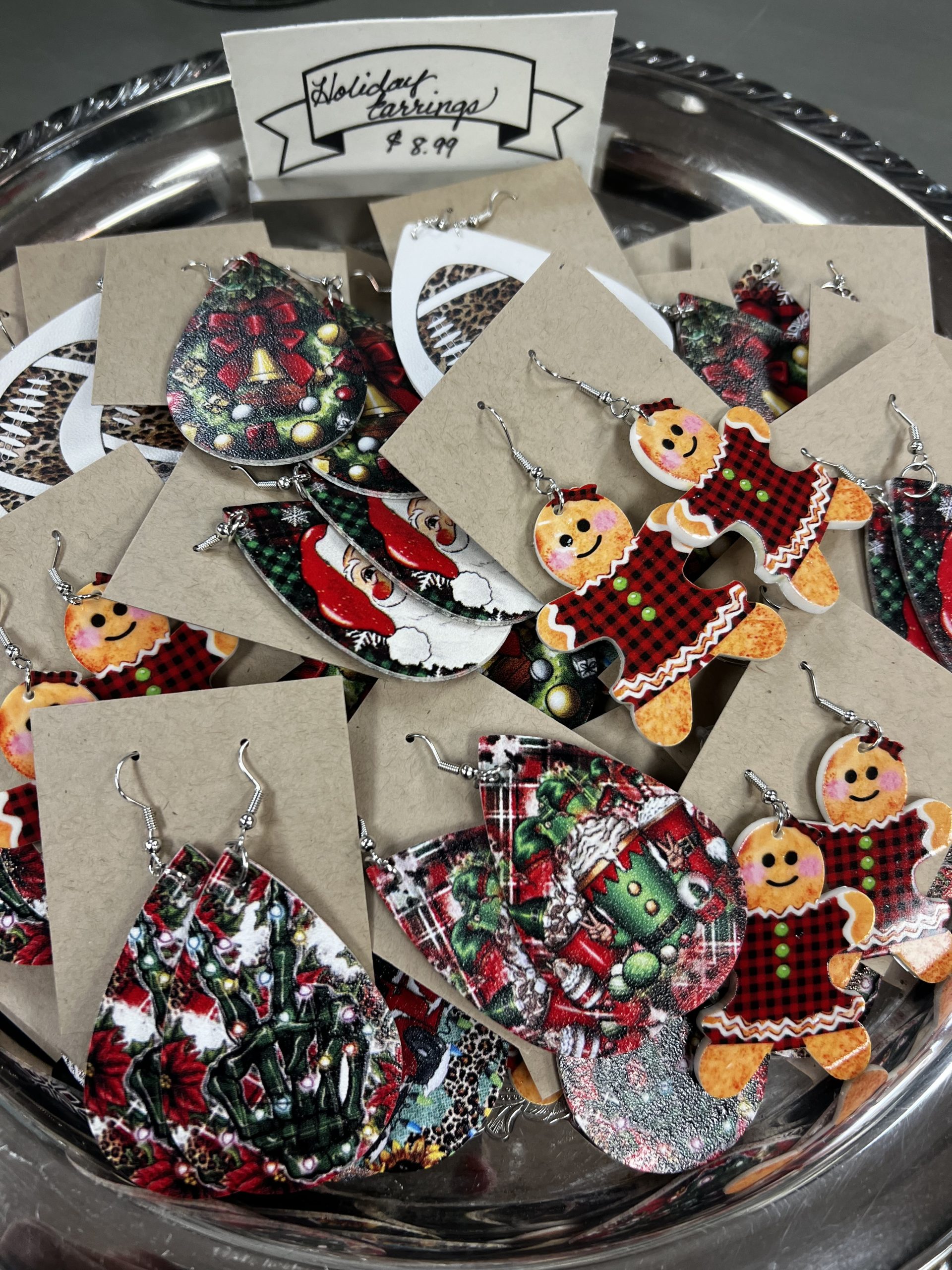 I'm sure you were thrilled with the free earrings!  Perfect for your next White Elephant gift exchange!
Fun workshops!
I hope you had the chance to join our (almost) annual Paint and Sip workshop, taught by the talented Susanne Kish!
Thursday night's workshop was followed by Dori's Wreath-building workshop, on Saturday and Sunday. Beautiful wreaths and the whole shop smelled like a Christmas tree farm!
Throughout the week, we got new goodies in and restocked the fast sellers.  Like our favorite fluffy jackets.
A few of you got one last year and decided to get a second one, this year!
Looking for a gift?
I may have the answer!  We've got messenger bags, with fun pattered straps, that are all on sale…25% off!
Yes, I missed my calling in life, as a super model!
Just a few of the styles…
Some pretty smooth moves, eh?!  By the way, I'm also wearing Democracy's Straight Leg jeans and one of many Shana tops, from the shop!
If all else fails…
Everyone loves a TTH Gift Card!  We package the cards in little flowered linen bags and put them in one of our TTH bags, all bowed up, so you have something to put under the tree!
Now, don't fret!
You still have almost three weeks before the big guy squeezes down the chimney.  Still lots of time to shop for something pretty…for you or a friend!
Well, there you have it. The long and short of it all!
Please don't stress about it.  I know it can be a challenging time of year, from many angles.  Try to keep your priorities in check and don't expect so much of yourself.  You know how we get when we overload ourselves with too much of everything!  Seriously.  We're no fun, when we do that!
At the end of the day, I remind myself, Jesus is the reason for the season. Thank goodness I have him in my life!
XO, Barbara
New arrivals, classes, and creative inspiration
is headed your way!
Signup for our weekly newsletter
Follow Us For More Inspiration