News from the shop this week!
June 5, 2023
Hello, gorgeous!
It's Monday and we're up at Tahoe, doing all sorts of spring cleaning.  It is still spring, right? Our heavy winter took its toll on the area, so there's extra clean up. Bob's been working on the sprinkler system and other manly chores.  I continue to perfect my housekeeping skills!
Besides chores and welcome rest and relaxation, I have a chance spend time researching painting techniques, design trends, and new goods for the shop, that I hope you'll love.  Like you, finding balance in life keeps me grounded. It seems to take constant effort…right?
Back to back workshops… 🙂
We had workshops Friday, Saturday and Sunday. It's been a busy place!
We had a fun group in for Paint and Sip, on Friday.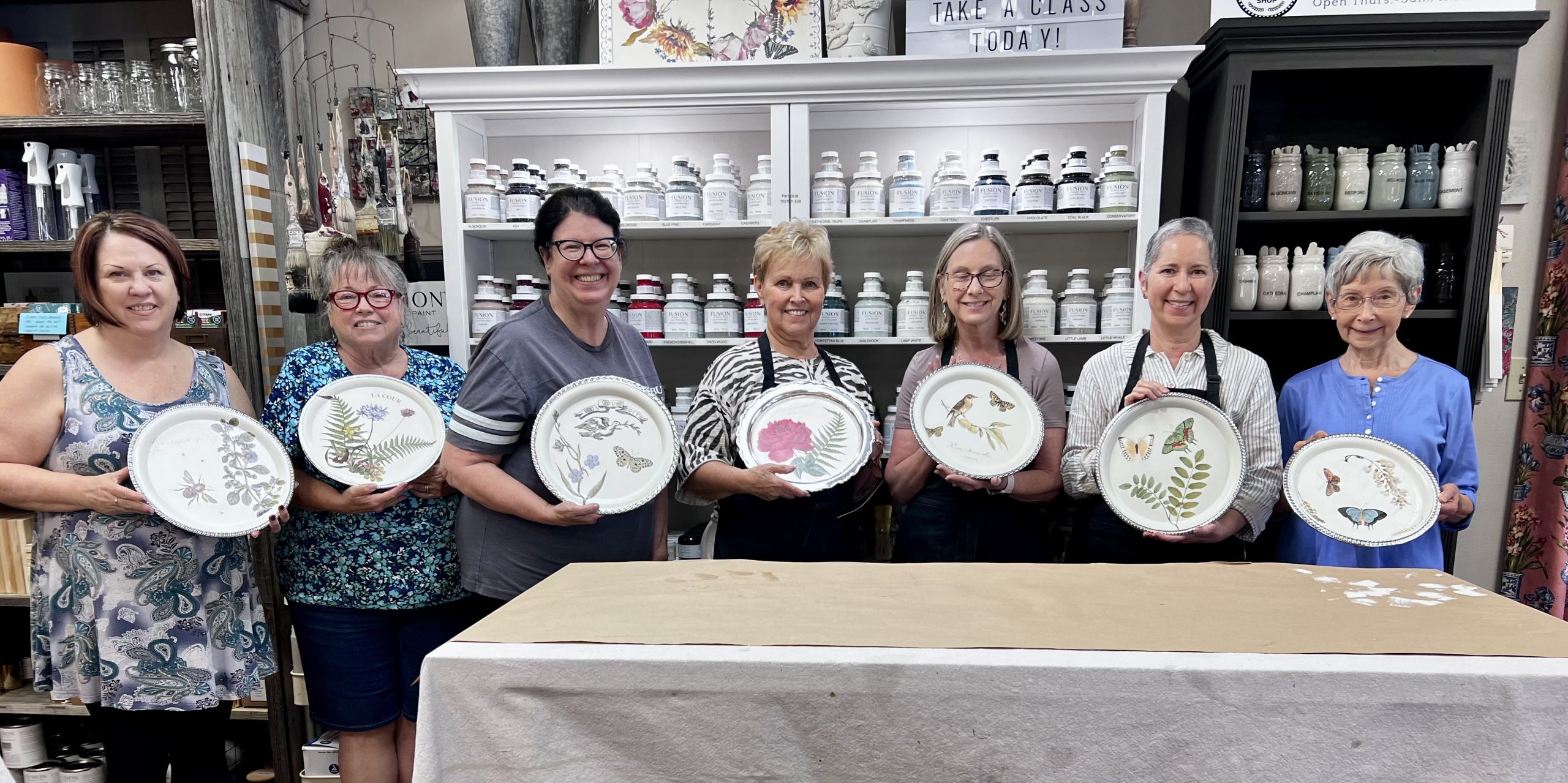 Our Embellished silver-plate tray class on Saturday, was smaller and at a nice relaxed pace.  My favorite!
Our Soft and Cozy Throw workshop has been amazingly popular, like this one, taught by Dori on Sunday! Yes, students knit with their hands!  Pretty cool!
Another Soft and Cozy Throw workshop is happening this Saturday, June 10th…a little later…at 3 p.m. ($85)
There's still room for Saturday's Soft & Cozy Throw workshop! Sign up Here!
Earlier the same day, Saturday, June 10th,
1 p.m.-2:00 p.m., is a FREE Iron Orchid Design Paint Inlay Demo.
 We'll have the Summer Collection of new transfers in stock on Saturday and I'll be showing you how to apply an I.O.D. Inlay.  It's a very cool process that takes a bit of practice. (Attendees will receive a free piece of Paint Inlay and instructions, to practice with at home, plus 10% Off all workshop products!) The paint inlay is moisture activated and the paint design becomes part of the project, rather than sitting on the surface, as transfers do.  Don't get me wrong…I love transfers…this is just different!
If you'd like to attend the free I.O.D. Demo, from 1-2 p.m.,on Saturday, June 10th, please sign up  Here!
Catching up…
We thoroughly enjoyed our trip back east to see family in New York annd Virginia and it always takes me a bit to catch up.  Certainly well worth it though, for sure!
Back at the shop…
We've been getting new clothing in and I desperately need to have a Fashion Show, so you can see it all!  Hopefully, that will happen this Wednesday or Thursday.  Stay tuned! Believe it or not, we'll be going to South San Francisco at the end of the month, to shop for fall and winter.  Holy smokes!
Father's Day is June 18th…
We have a number of fun gifts under $20, for your special guy!.  You know, Dad doesn't want much…he just wants your love and to be recognized.  We've got you covered!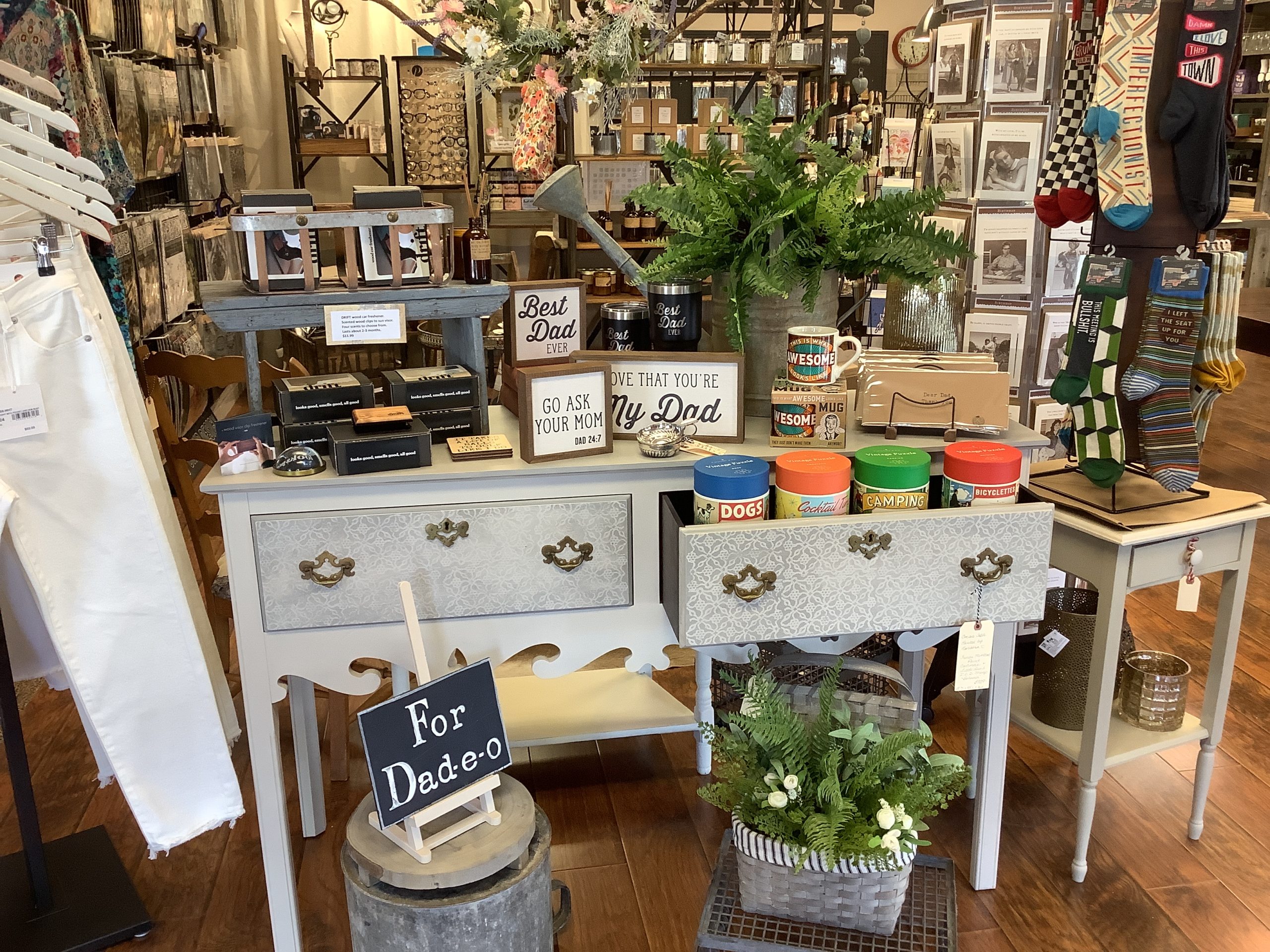 Well, friend, that's all the big news I have to report.  I hope that all is good in your neighborhood and that our paths will cross again soon!
XO, Barbara
New arrivals, classes, and creative inspiration
is headed your way!
Signup for our weekly newsletter
Follow Us For More Inspiration