News from the shop!
November 14, 2022
Hello, gorgeous!
Feeling crafty?  Please join us!
Cameo Treasure Box Workshop
We still have space for Saturday's workshop.  You'll paint, make clay moulds and glaze this cameo mould, creating a near replica of an actual cameo! It's on November 19th from 1-3 p.m. and is $49.00  You can sign up Here!
Feeling thankful…
We have a the latest issue of this wonderful magazine, in stock.  If you love beautiful French design and photography, you will love this publication!  A great gift for you or a friend, $14.95.
The dollar store sunglasses served two purposes. One, to just be silly and secondly, to cover a black eye.  I was out, walking in the rain last Monday night, when I did a "face plant".  Taking baby aspirin has amplified the bruising and has spread significantly, this past week.  Half of my face is now an unflattering shade of yellow. Then there's purple…deep blue…
Vanity aside, it could have been so much worse.  Nothing was broken and I feel fine.  I just wanted to give you a "heads up", should we run into each other at the shop!
Last Friday…
Three local businesses hosted a client appreciation event/workshop for 20 and it was a great success!  The hosts brought food and wine and we did the rest!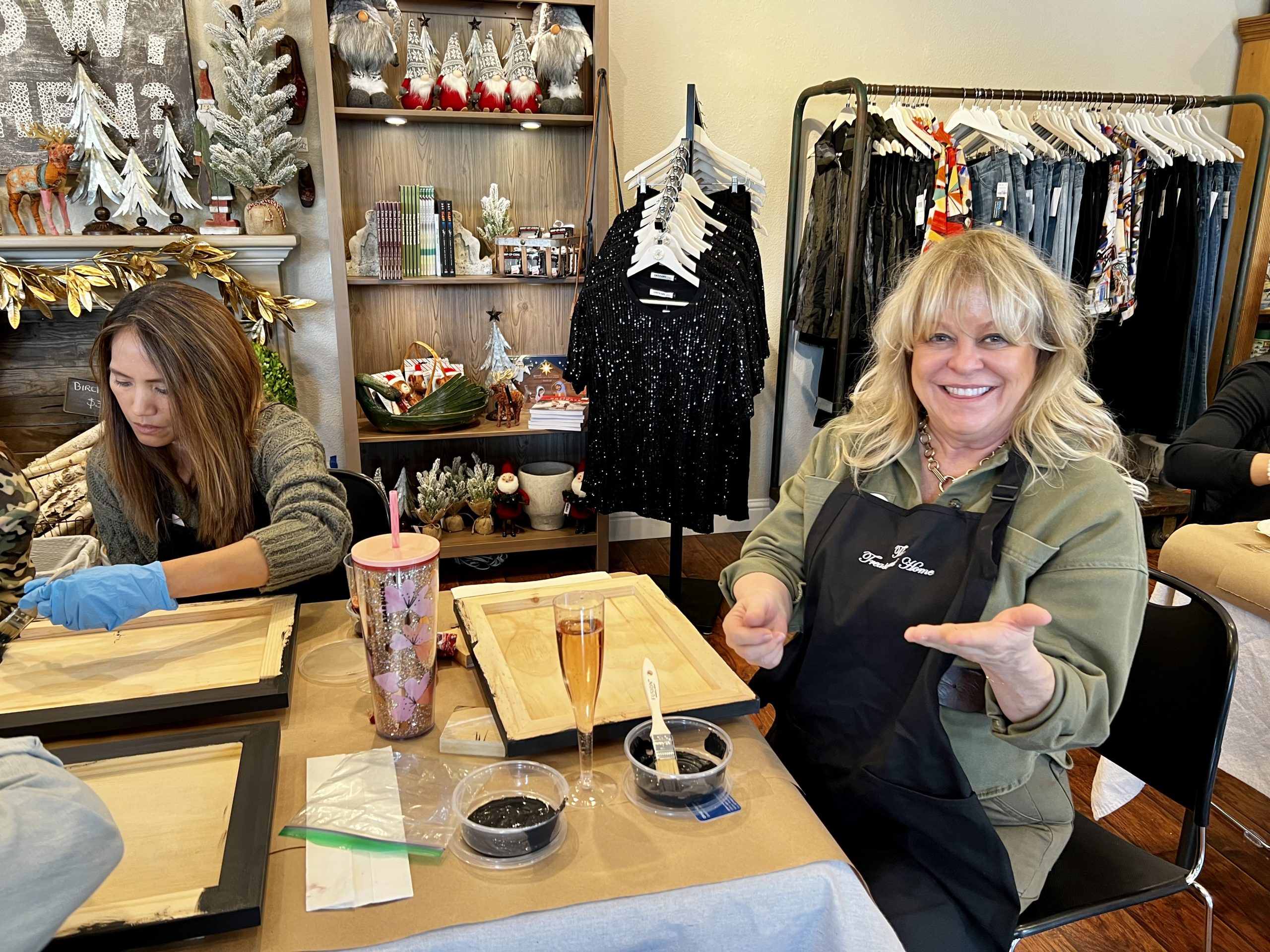 ________________
Do you follow the Fair Oaks Recreation & Park District?
Sabrina, from the district, contacted us last week, looking for events to add to their Facebook page, Christmas in Fair Oaks.  You can check it out here:
Events in Fair Oaks, this holiday season.
If you're local, I highly recommend taking a look!  They have all sorts of events on the calendar, to celebrate the season…for adults, children and families!  A Jingle & Mingle Village Stroll, is on the evening of December 7th and gives you a sampling of some great bars and restaurants, in the Village.  You can pre-register on their Facebook page, for any of their events.
_____________
A happy ending…
Carol Kinsel is a lovely woman, who for years has assisted seniors find new homes, when living alone is no longer an option.  Now, in her free time, she's painting furniture, with Fusion Mineral Paint, of course!
It all started when she inherited her mother's French Provençal chest of drawers.  She didn't want to get rid of it, because of of its sentimental value and because it's a well-made piece of furniture.
Having never painted furniture before, she scheduled a private class, painting one of the drawer fronts.  Now she's on a roll!
Carol painted this piece in Fusion's Putty color and it turned out beautifully!
But why stop there?!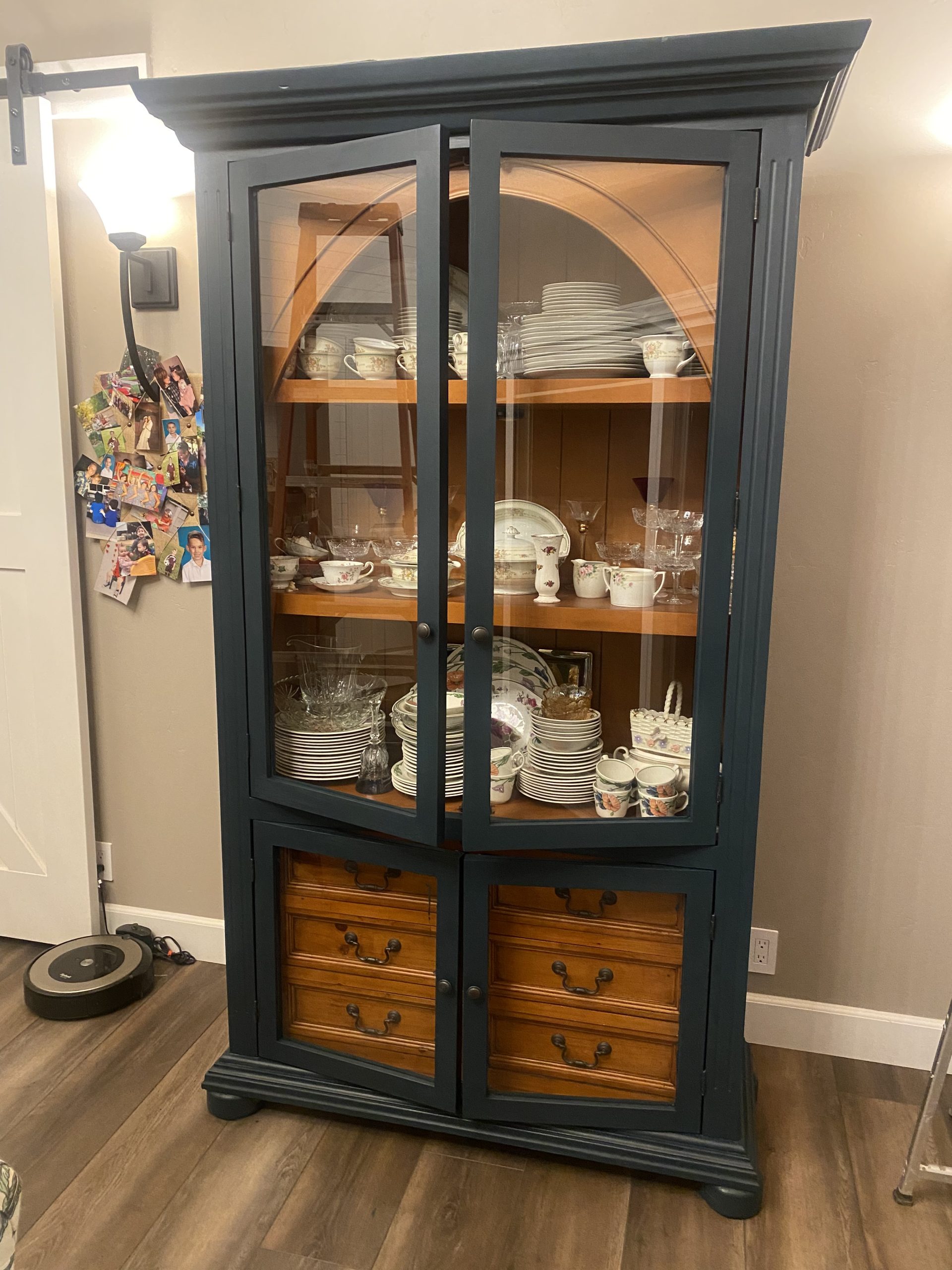 She's on a roll!  She says that with each project, her confidence is growing.  What will she paint next?
New shop hours:
Tuesday:  10:30-4:00
Wednesday:  10:30-5:00
Thursday: 10:30-6:00
Friday & Saturday: 10:30-5:00
Sunday: Noon til 4:00
Until we meet again, watch your step!
XO, Barbara
New arrivals, classes, and creative inspiration
is headed your way!
Signup for our weekly newsletter
Follow Us For More Inspiration