News from the shop this week!
August 5, 2021
Hello again,
First and foremost, on my mind today, are our neighbors in the foothills, around Colfax.  My thoughts and prayers are with you, as I hope this wildfire is contained quickly!
Everything I mention today is so insignificant, in comparison to having your home and wildlife threatened, but here goes…
Natural Wreath Workshop

Saturday, October 6th, 1-3:30, $75.00
You know the story about "teaching a man to fish", well this class will teach you how to use the organic nature, found around us, to create a work of art for your home.  We'll provide the tools, grapevine wreaths, moss, feathers, pine cones, dried flowers and anything else we can find.  You'll bring any additional found treasures, from your garden, for your wreath and to share with others.  If you don't have anything, you're still welcome to attend.  Adding your own natural elements just personalizes it a bit.
Best of all, you'll have floral artist, Penny Reisig, to teach you about composition and application! I've made a wreath with Penny and her friends, years ago.  It's much easier than you'd think and a fun, relaxing process.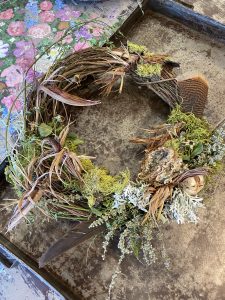 You'll be able to update your wreath through the year, with new found treasures, found through out the year.  Sign up Here!
Demo Day, this Saturday!
If you've been curious to know more about Iron Orchid Designs's products and how to use them, arrive for the 11 -12 p.m. demonstration.
If you've got a garage full of Aunt Betty's furniture, but not sure how to tackle a furniture update, come to the Furniture Painting demo, featuring Fusion Mineral Paint. I'll go through each step, as I paint a small piece of furniture, from 1-2:00 p.m.
Half Off Floral Sale!
The deals are amazing!  Even the lavender wreaths, normally $24.95, are half off!
Supplies are limited, so shop early!
Well, there you have it!  Oh, one last thing, I'm sad to say…
Stay well and enjoy the day!
New arrivals, classes, and creative inspiration
is headed your way!
Signup for our weekly newsletter
Follow Us For More Inspiration