News from the shop!
October 13, 2021
Hello again!
I hope you're loving this beautiful fall weather as much as I am!
As you know, we're celebrating the shop's 9th Anniversary! I ran across this photo of Mr. Wonderful, standing beside the first work table he built, from a picture I gave him.  We were almost ready to open and you can see how empty the place was!
The table has served us well and I'm even more thankful for all of the never-ending support Bob has provided me, from the beginning!
Important Dates:
20% Off Storewide Sale, ends October 24th!
(3) Shopping Spree Drawings on October 28!
Holiday Open House, Nov. 4-7!
__________
New Wreath Workshop, Nov. 20th
If you follow us on Facebook, you probably saw all the amazing wreaths made last weekend, at Penny Reisig's class.  Due to popular demand, we added another class to the schedule.  Just eight students, so sign up early! You'll find out more about all of the fall and holiday classes, at:
http://Www.thetreasuredhome.com/classes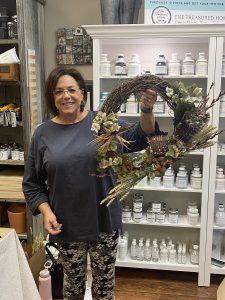 !
_________
Well, that's all I have to report, at the moment.  New Umgee pieces are arriving tomorrow, all at 20% Off, through October 24th.  Fusion Mineral Paint arrives Friday, to fully stock our shelves…all at 20% Off.  Great deal!
Keep smiling!  You are loved!
New arrivals, classes, and creative inspiration
is headed your way!
Signup for our weekly newsletter
Follow Us For More Inspiration