To Market, To Market, To Buy & Buy Some More!
February 7, 2018
Hello, sweets!
January was supposed to be a relaxed month of catch-up and reorganize.  I'm not sure how it happens, but now we're almost ready to celebrate Valentine's Day.
Winter market, in Las Vegas, is two or three days of non-stop walking.  By three p.m., I'm ready for the senior lounge!
You know they should have a lounge, where you can get your feet rubbed, while talking to a psychic about potential purchases!  I've been doing this for five-plus years and still stress about buying for the shop.  Did I buy enough, too much?  Did I buy a dud(s)?
We'll find out!  New merchandise will start arriving next week!
---
In the mean time, let's tell you about a few upcoming classes!
I just realized I had our next Paint & Sip class, February 16th at 6 pm, on the web site calendar, without a picture! I just hope I rectified the issue, in time to fill the class!  Please (on blended knee) join us!
---
On Saturday, February 17th, at 11 am, I'll be offering a free demonstration, showing you my favorite new toys!  Molds, image transfers and stamps, from Iron Orchid Designs. If you're a furniture painter, or crafter, you need to see this!
---
Next up, we've had our popular Paint Your Own Piece class on sale. It's been so popular, that we added one more class, Thursday, February 22, at 6 p.m.!  Just $45!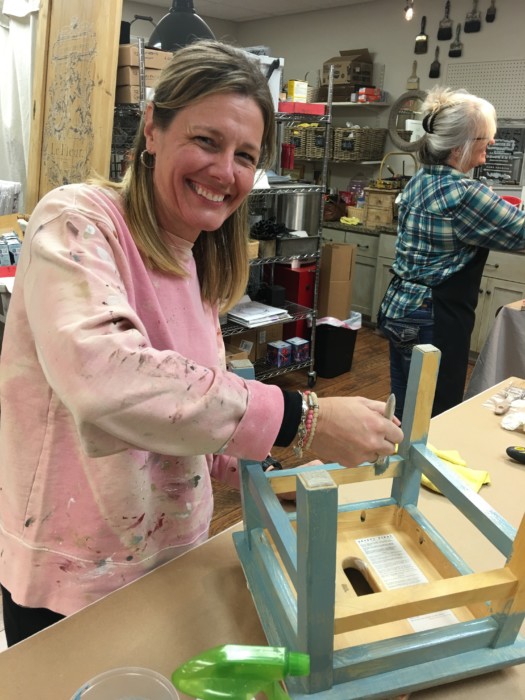 ---
Our last class for February, is called Gut Health 101, Feb. 24, at 10:30-12:30ish.  The class will be taught be Monica Biery, who I swear, was Mother Earth, in a past life.  She is passionate about gut health.  It's where our immune system lives and according to Hippocrates, "All disease begins in the gut." Yes, that was a few years ago, but it's still true! Monica will prepare her favorite juices, smoothies and soup, right before your very eyes.  You'll taste and take home recipes and hopefully we'll all be inspired to follow her lead!
We'll, that's all for now!  Stay well and stop by, next time you're in the neighborhood!
To sign up for any of these classes, just go to http://www.thetreasuredhome.com/classes
New arrivals, classes, and creative inspiration
is headed your way!
Signup for our weekly newsletter
Follow Us For More Inspiration