Back at the shop!
June 13, 2022
What I did during my summer vacation Covid quarantine!
Hello, friend!,
Well, here I am, back in the saddle, after Bob and I recovered from Covid.  I'm sure you were wondering, so let me tell you all about it!
On second thought, let's not!  Just know about Paxlovid, should you test positive for Covid.  If you catch it early enough (within five days of visible symptoms) you can get this prescription, which is supposed to shorten the duration and lessen the symptoms.  Thanks to Linda, my shop sister, for telling us about this option.
For me, the worst part, besides congestion, was exhaustion.  Once I was feeling better, I was able to get a few fun projects completed.
We've got some outdoor projects, in the works, back at home.  This slippery tile is going to be replaced with natural blue stone.  This pot has been sitting in the ivy for at least 15 years and I wanted to lighten it up.
So, after a good scrubbing, with Fusion's TSP Alternative, I took this grody, old car wash mitt and got busy painting the pot, with Fusion Mineral Paint, in the color "Putty".  (Don't ask me what the strange fibers are on the mitt, along with paint!)
This was just one coat of paint!  I later added a little bit of lighter Raw Silk here and there.  Overall, I'm happy with the project.
In between this project and the next, was a lot of resting. So dang boring!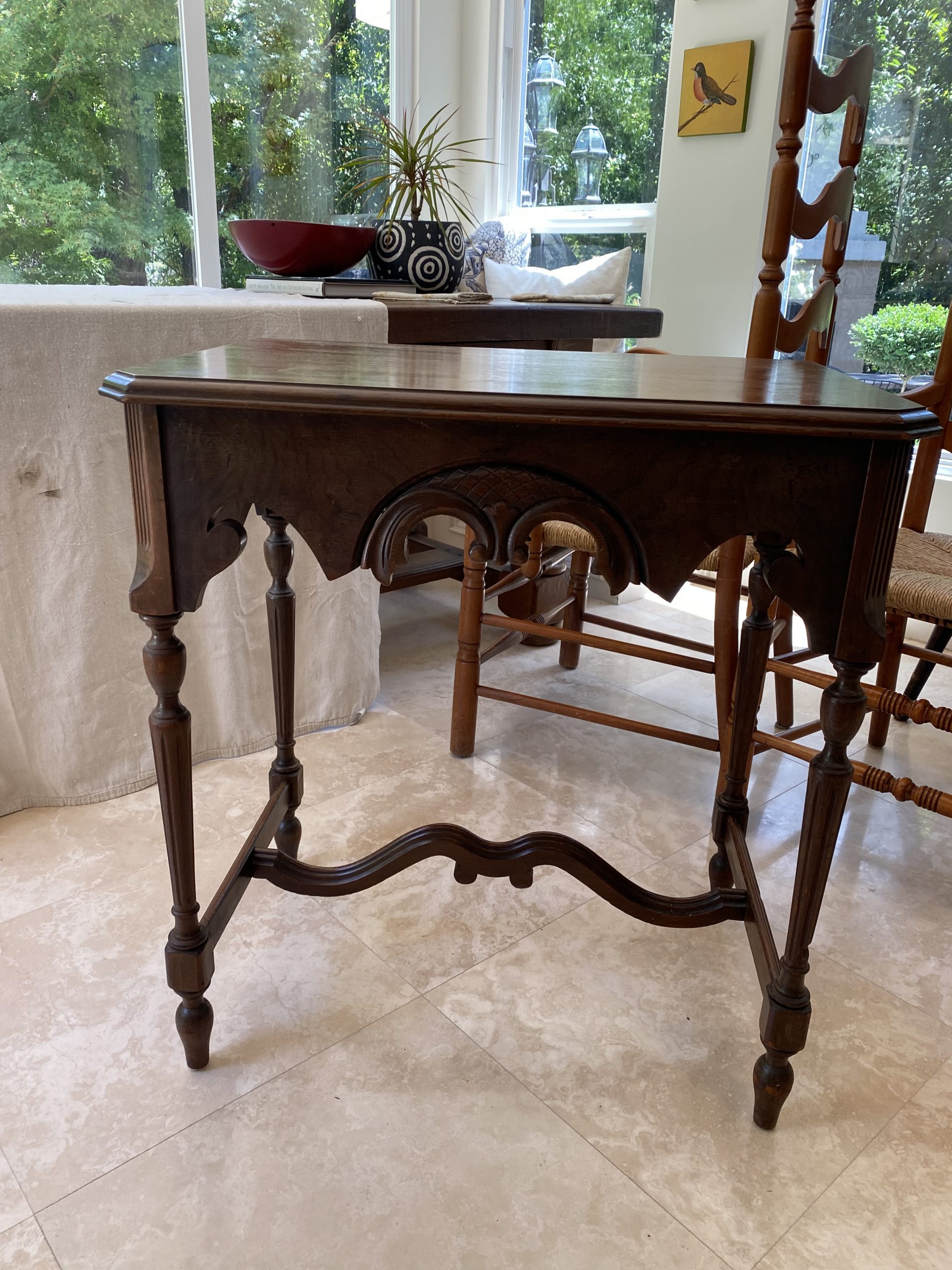 Once I was feeling better, I decided to lighten this table, as I was putting it in another bedroom that needed lighter colors.  I painted it in Fusion Mineral Paint's Raw Silk.  I should have primed it first and ended up with four coats of paint.  But, I had nothing else to do, so no harm, no foul! Did I take an "after" picture? Nope! I knew there was something I forgot!
Back at the shop…
The ever delightful Dori Barrett, taught the Decoupaged Sneakers class.  Everyone had a great time!  This was our second class.  Please let me know if you'd like to take the class too.  We just need at least ten of you lovelies, to book the class.  🙂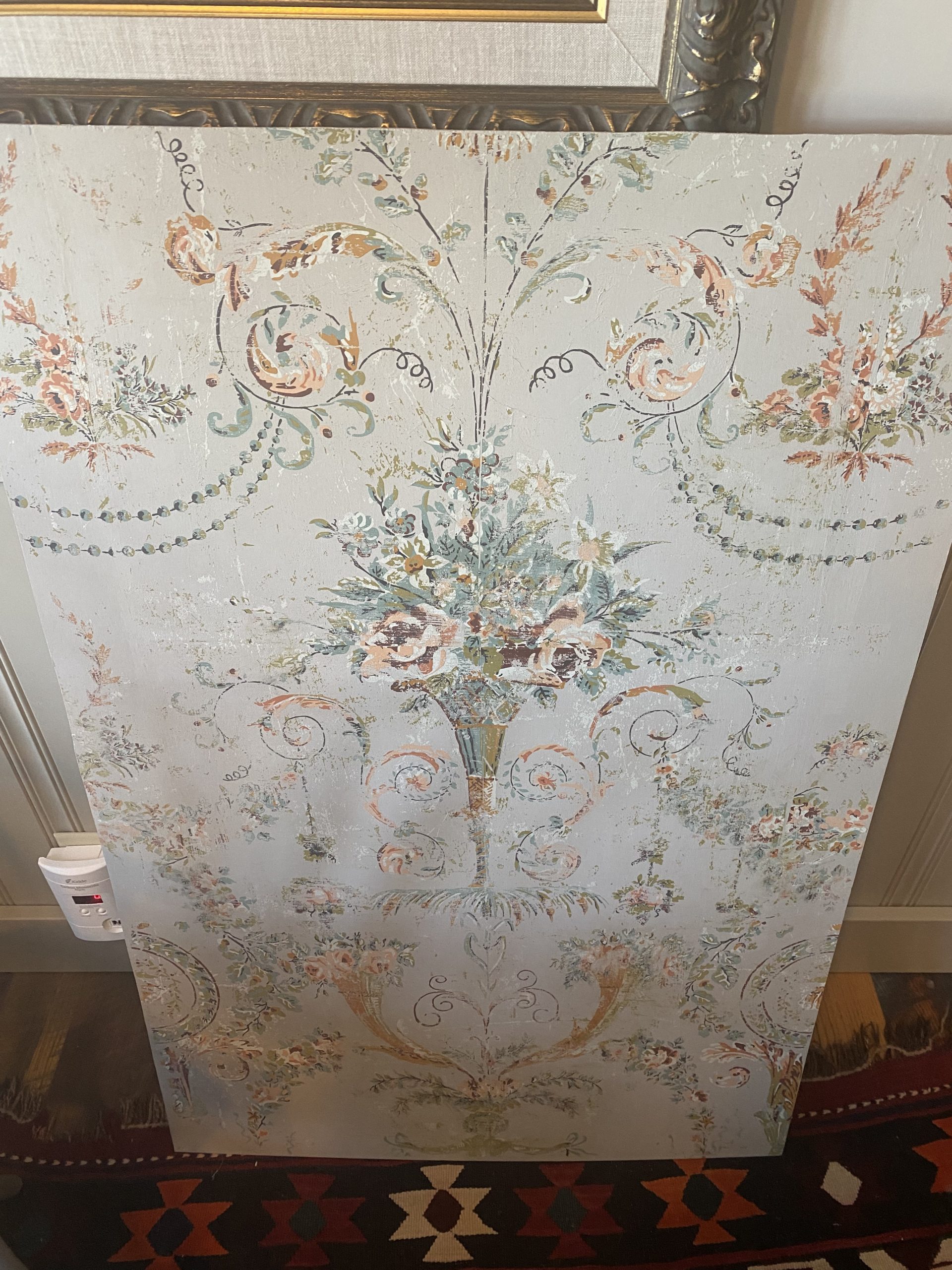 This is the "Chateau" I.O.D. Inlay, on a 2 x 4' wooden panel.  Before I jumped off the cliff, after early struggles, I turned to my fellow Fusion Mineral Paint merchants, for tips on applying the inlays successfully.  I had gotten off to a rough start on this project, but feel so much more comfortable with the product.  I'm going to schedule a "how to" this summer, so stay tuned!
Special thanks to our wonderful shop sisters!
I just realized we're missing Michelle in this photo! She was in France, when we had a chance to get a group shot.  Next time!  Anyway, I am so thankful to my dear friends, for always taking care of business…especially these last two weeks, while I've been out. You're the best of the best!
Until we meet again,
Stay well
XO, Barbara
New arrivals, classes, and creative inspiration
is headed your way!
Signup for our weekly newsletter
Follow Us For More Inspiration