Some of you, I've had the pleasure of meeting in person. Many of you, I haven't. But the spirit of kindness, humor, inspiration and support are all alive and well here. It's a place where I can relax and be myself.
You don't have to be a blogger to be here. We're all part of a very large "family" of sorts. No invitation is needed to participate. All are welcome! There's a "sisterhood" to be found, in this world. A sorority for all sorts of us. It's free. (i promise no information will be sold!) No strings attached.
One day, if my vision is fulfilled, this will be a place where home bloggers and readers can find one another. It will also be a place to learn about what's going on in your part of the world, for crafters, DIYer's, designers, antique and vintage lovers, too. Your ideas and participation are important!
Your Blog Sister,


The Blog Sisters Pledge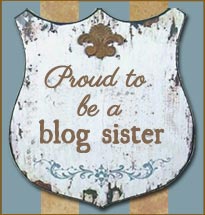 I'm proud to be a Blog Sister, who shares her knowledge generously; promotes & supports her fellow Blog Sisters; gives credit, where credit is due; follows the Golden Rule, and loves the friendship of blogging!
Receive a free hand-out, offering over 25 ways to build a better blog!  Plus, you'll get your own Blog Sisters badge to proudly post on your very own beautiful blog!